Archive for the 'nature' Category
Here we are at the turning of the year. It's been a hard year in many ways. My particular concern has been the environment and natural resources. I've had to witness oil and gas interests take precedence over the protection of fragile landscapes, sacred cultural resources and vulnerable water supplies. Wildfires have devastated Northern California, where I live, including parts of Santa Rosa, the city where we go for many services. A huge fire now threatens Santa Barbara, in southern California, where I lived in the 1970s. Here on the northern coast, warming ocean temperatures have wrought havoc on the kelp forests and the sea creatures that depend on them. Throughout the world, as starving people flee drought-stricken lands, tribal hostilities are increasing.
Meanwhile, the days follow each other. The sun's arc rises lower and lower in the sky, its rising and setting further and further to the south, and the darkness of longer duration. There will be a pause, a solstice or sun-standing-still, and then a return of the light, and we will celebrate, in our various spiritual traditions, a return of hope.
May you all find hope and joy in the days to come.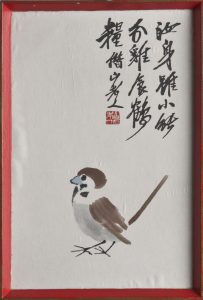 In the late 1950s, when my husband Tony was a student, he strolled into a junk shop in the small town of Hawera, New Zealand. A charming image of a sparrow caught his eye. Fast forward ten years. Tony was by then an engineer at a high tech company in Silicon Valley. The sparrow pops up again in a letter I write to parents:
14 April 1969
A friend of Tony's from Memorex came to dinner. A Korean boy … He is really charming, and we had a pleasant evening. One interesting thing that came out of it – Yun also reads and writes Mandarin Chinese, so was able to translate the inscription on our sparrow picture for us. Do you remember our sparrow? It is a little brush drawing that Tony picked up in a junk shop in Hawera when he was a student, shortly before reading in a magazine a story about a famous Chinese artist who was objecting to a government campaign to kill off the sparrows to improve the wheat production. He made these little posters, inscribed with sentimental stories about the sparrow. And this, as far as we can tell, is what we have got.
With the help of the Internet, I've been piecing together my fragments of knowledge about this period in Chinese history. What I discovered is a familiar story about well-intentioned interference with nature leading to ecological disaster.
In the First Five-Year Plan of the newly-founded People's Republic of China, families were each given their own plot of land. In the Second Five Year Plan, begun in 1958, a new agriculture system was announced. Family farms were grouped into collective farms, making each village a single production entity in which everyone would have an equal share. Food would be provided in a communal kitchen.
In theory, a collective farm where resources were centrally controlled should be more efficient and yield higher productivity. In practice, agricultural production figures fell. Food shortages were exacerbated by flood and drought. Believing that getting rid of sparrows, who ate grain, would improve production, Chairman Mao Zedong launched the Four Pests Campaign, which encouraged citizens to kill them, along with three other pests: rats, flies, and mosquitoes. Sparrow nests were destroyed, eggs were broken, and chicks were killed. Many sparrows died from exhaustion; citizens would bang pots and pans so that sparrows would not have the chance to rest on tree branches and would fall dead from the sky. Citizens also shot the birds down from the sky. These mass attacks pushed the sparrow population to near extinction.
In hindsight, the result was inevitable.  Too late, Chinese leaders realized that sparrows didn't only eat grain seeds. They also ate insects. With no birds to control them, insect populations boomed. Locusts, in particular, swarmed over the country, eating everything they could find, including crops intended for human food. People, on the other hand, quickly ran out of things to eat, and tens of millions starved.
I recently asked my son Simon, now in his fifties, if he remembered anything of our visit to New Zealand when he was two. He thought for a moment. "I remember the frogs." Ah yes, the frogs. Actually they were cane toads, but a two-year-old doesn't bother with such distinctions.
 Our flight from San Francisco to Auckland had a six-hour layover at Nandi, Fiji. When we arrived in Nandi at 4:00 am, we learned that the airline had very kindly provided a motel room so that we and the children could get a little rest. Tony and I looked forward to this. We were flying Qantas Airlines, and a bunch of young Australians partied all night in the rows behind us, oblivious to the flight attendant's efforts to keep them quiet. The children, however, would have none of this going-to-bed nonsense. Their circadian rhythms completely out of whack, Simon and his brother were bright-eyed and ready for adventure.
We heard the toads first, a continuous high-pitched purring that filled the warm tropical night like the sound of a smoothly running motor boat. Then we saw them. Near the motel swimming pool stood a pole with a bug-zapping lamp attached. On the ground below, hundreds of cane toads clustered, waiting for the next flying creature to drop. The children were enthralled. Fortunately we did not allow them to go near the creatures, who can secrete a toxic poison.
The cane toad (Rhinella marina) is native to South and Central America. In 1935 they were introduced to Fiji and other places to control beetles on sugarcane plantations. The trouble was, the toads couldn't jump high enough to eat the beetles, which live on top of cane stalks. With no natural predator in their new home, the cane toads bred in large numbers, and have proved to be an environmental disaster. They have voracious appetites, and will feed on almost any terrestrial animal and compete with native amphibians for food and breeding habitats. Their toxic secretions are known to cause illness and death in wildlife and in domestic animals that come into contact with them.
The cane toad disaster is a classic example of humans disturbing an ecological balance, inadvertently creating a new problem as they try to solve an existing one. Thinking about that tropical night makes me realize how little we still know about the complex interactions of the natural world. But on a personal, selfish note, the Fiji motel toads did provide entertainment for two rambunctious little boys.
When I arrived in California from England's green and rainy land, I thought I must have landed in Camelot. Remember that song from the 1960 Lerner & Loewe musical?
The rain may never fall till after sundown
By eight, the morning fog must disappear
In short, there's simply not a more congenial spot
For happy-ever-after-ing than here in Camelot
It rained for a week or two after we arrived, from late May into early June. My new neighbors kvetched, "Enough already!" After a normal rainy winter, early spring had been dry. Now the rains had started back up, and they didn't like it. I, however, was enchanted. It truly only rained at night; the days were warm and sunny.
Eventually the rain stopped. Grass on the hills turned from green to gold. I had learned about Mediterranean climate in geography class at school: how it occurs only in five parts of the world, on the western sides of continents, between roughly 30 and 45 degrees north and south of the Equator. How it is associated with rotating high pressure zones that migrate through these sub-equatorial latitudes depending on the angle of the sun, bringing clear skies in summer and moving equator-ward to allow frontal cyclones to bring rain in winter.
Now I was living this rare climate. Warm sunshine day after day. Golden hills faded to a dusty tan. As summer crept toward fall, I found myself longing for the rain and dark I had hated in England. I discovered that my neighbors, too, eagerly awaited the first rain of the season. We celebrated together as the sky darkened and the first drops fell. I was learning to be a Californian.
Having spent all their little lives in a place where parks had prim Keep Off The Grass signs and irate men in bowler hats with sticks enforced The Rules, my children were enchanted to discover the parks and playgrounds of their new home.
In the 1967, when we arrived in California from England, California State Parks was going through a huge expansion. Appropriations from the General Fund and a 1964 recreation bond provided well over a hundred million dollars for land acquisition and development. The government budget analysis for 1967 comments:
In the immediate future, the most pressing need of the state park system will be to provide funds for access and minimum development to enable the public to use lands now owned or currently being acquired. The existing state park system has a potential for development of about four times that of existing facilities.
With an expanding population, local governments in the Santa Clara Valley were also opening new parks and playgrounds as rapidly as they could. It was a fine time to be kids. They had their choice of playgrounds within easy driving distance: the one with the great swings, or the one with the good bars to climb on?
Cooking out at a forest park was one of our favorite activities. We bought a cheap little hibachi, loaded up a picnic and were off to explore.
At weekends, if the weather was hot in the valley, we might go over the Santa Cruz Mountains to the beach, remembering to take warm jackets since the fog was likely to roll in. Again choices, choices: Pescadero State Beach,  or San Gregorio, or Half Moon Bay, Natural Bridges, Seacliff, Manresa…? Well before the California Coastal Act of 1976 declared that the permanent protection of the state's natural and scenic resources is a paramount concern to present and future residents of the state and nation and that it is necessary to protect the ecological balance of the coastal zone and prevent its deterioration and destruction, the beach parks in our part of the state were already a beloved treasure.
Looking back, I recognize how innocent we were about land use politics, environmental pollution issues, climate change. Now more than ever, those parks and beaches, and the creatures living in them, need our support.
Golden fruit clings to leafy branches. Golden-skinned men climb orchard ladders, old metal harvesting pails in hand. Close to the road, a huge billboard: FOR SALE FOR COMMERCIAL DEVELOPMENT. The scene has stayed in my mind, my first introduction to the landscape of my new home.
I moved, with husband and children, to Cupertino, in Santa Clara County, California, in late May of 1967, just as the apricot harvest was beginning. Between our  apartment, off N. Blaney Ave. by Interstate 280, and the nearest food market, on Stevens Creek Blvd., was a mile of apricot orchards. In other directions were acres of cherries, almonds and prunes. The Santa Clara Valley, a fertile alluvial plain, was until the 1960s the largest fruit production and packing region in the world. The beauty of all that spring blossom gave rise to the nickname "Valley of Heart's Delight."
The post-World War II economic boom and the rise of high-tech industry changed all that. My husband and I were part of a flood of new arrivals that forced out the fruit farmers and replaced orchards with tract houses, shopping centers, and business parks. It was a bittersweet time. On the one hand the energy and excitement of the new technological advances, the sense of living where the future started. On the other, sadness at the destruction of all those beautiful trees. Among my old notes I found a few lines of a poem I wrote in those early years:
The field is bare now where the orchard stood.
Apartment builders hammer at its brink.
How soon do we evict the meadowlarks
that saunter golden in the rainy dusk,
foraging through weeds by the highway's edge?
In recent decades, with the growth of the environmental movement, there grew a collective sense that something important was being lost. Efforts were made to preserve at least the memory of that fruitful landscape. In 1994, the City of Sunnyvale preserved ten acres of Blenheim apricot trees "to celebrate the important contribution of orchards to the early development of the local economy" and created an interpretive museum beside it.
The Olson family, whose 100-acre cherry orchard was one of the last vestiges of cherry farming in the area, still retains a few acres of trees and the roadside fruit stand that began in 1899. Owner Deborah Olson commented: "We try to educate people just moving in to the area, who don't know what it's all about. They get a sense of place, about how it began here, and they kind of feel a part of the community."
Blogger Lisa Prince Newman, whose family also moved to the valley in the 1960s, is collecting stories, pictures and apricot recipes from the few farming families still in the valley.
The chorus of Joni Mitchell's song "Big Yellow Taxi," written in the late 1960s, sums up the sense of profound loss:
Don't it always seem to go
That you don't know what you've got
Till it's gone
They paved paradise
And put up a parking lot
 Hear Joni sing "Big Yellow Taxi"
I still ponder why it meant so much, that Christmas morning in England in the 1960s, that a robin sat on the back fence. The field behind the fence was white, the fence wires thick with hoar frost, and the little red-breasted bird made the scene perfect. Finally, I told myself, a 'real' Christmas.
I have tried for many years to clarify my feelings about the disconnect between the traditional trappings of the season and my experience of growing up in New Zealand, where the seasons are reversed. My childhood Christmas memories are of summer: the tree laden with oranges in my grandmother's garden where we hung our presents and picnicked on the lawn; the scent of magnolia blossom outside the church on Christmas Eve.
Also the Christmas cards with their images of snow (which I'd never experienced) and yes, the English robin. I knew about robin redbreast from the old nursery rhyme, but until that Christmas I hadn't seen one.
Now on the coast of Northern California, I have a different understanding of how to celebrate the winter season. Our multicultural society recognizes many winter festival stories and traditions: the birth of Jesus in a stable, the menorah candles of Hannukah, the Swedish light-bringer St. Lucia, the gift-bringer St. Nicholas (known also as Santa Claus), and many others. The celebration that holds the deepest meaning for me now is Winter Solstice, the return of the light. From summer to winter, I note where on the horizon the sun sets, and how the darkness grows. Even as clouds gather, the place where sun disappears into ocean fogbank moves steadily to the south. When the prevailing westerly wind shifts to the southeast, I know to expect the winter rains. Sometimes a shower or two, sometimes, such as this past week, a prolonged deluge that floods rivers, downs power lines, and closes roads.
Meanwhile, the earliest spring flowers are breaking bud, and over-wintering birds gather hungrily at my feeder: Steller's jay, spotted towhee, hermit thrush, acorn woodpecker, hordes of white-crowned sparrows. I love them dearly. I am happy that I have learned to understand the connection between the flow of seasons and human efforts to explain them with stories and festivals. And I still have a place in my heart for the memory of that cheery robin redbreast who brightened an English winter.
Whenever I see old blackberry canes, dark red as the stain of their summer juice, I remember blackberrying in England when my son was small, and a dark red guilt sweeps over me. I described our expedition in a letter to parents:
8 Oct 1965
We went blackberrying on St. Ann's Hill, not far from here. Got a lovely lot—have been busy making jelly, pies, etc. David had a wonderful time—it was so sweet to see the solemn single-mindedness with which he set about collecting his berries—and he didn't eat a single one until Tony offered him a handful—to comfort him when he tumbled down a slope into a patch of brambles.
Modern American parents would probably be horrified at how lackadaisical we young mothers in England were about supervising our children's play. Once the daddies were gone to work, our little close of twenty-eight row houses was almost completely free of traffic. The kids, twenty of them under school age, ran in and out of each others' houses and romped together across the grassy front yards.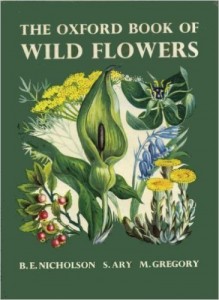 The Monday after our blackberrying expedition, I went out to gather up two-year-old David for lunch. I found him and his little friend  in a still-rough corner between the housing blocks. His mouth was stained red. "I picking blackberries, Mummy," he announced cheerfully. I took one look at the berry-laden plant, then rushed back to the house. My Oxford Book of Wild Flowers confirmed my guess: Deadly Nightshade.
While Tony, who had come home from work for lunch, went to tell the mother of the other child what had happened, I tried everything I knew of to make our baby throw up. Nothing worked. We called an ambulance. Since I was within a week or two of giving birth to our second child, a neighbor, seeing the ambulance, came over to wish us well. I am still grateful that when she learned the story, she called the police, and still guilty it hadn't occurred to me that other children might be involved. Some days later I wrote to parents:
13 Oct. 1965
The police organised all the rest of the kids in the close whose parents couldn't prove they were somewhere else that morning into another convoy of ambulances for a mass stomach pumping session. About a dozen altogether involved, of which four (including David) were confirmed cases, though they decided to keep the whole lot overnight for observation, just in case.
Meanwhile the newspapers had got hold of the story. We refused to see them at the hospital, but when we got home about 7:00—completely exhausted, & having had nothing to eat since breakfast—we were invaded by a posse of reporters. A highly garbled & exaggerated account appeared the next day. I suppose it's not every day one makes the front page of the Daily Mail, the Daily Mirror, & the BBC News, but I shouldn't care for the honour to happen again.
Anyway, the story ended well—all the kids were discharged the next morning, with none but the hospital staff any the worse for wear—in fact the sister-in-charge of the children's ward where the confirmed cases were confessed that she hadn't known that four such tiny boys could get so involved in riots and punch-ups all up and down the ward, and they were very pleased to see the back of them.
My son's first word was "duck." This is not surprising. We lived in Windsor, England, downhill from Windsor Castle and a few blocks from the River Thames, a destination for our daily walk.
There was always something to see on the river. Sometimes rowing crews from Eton College, eight oarsmen in a long narrow shell sweeping the water with long strokes, the cox calling the rhythm. Lots of boats. My family's special favorite was the elegant "Esperanza," one of the many riverboats that took visitors on trips upriver.
David's favorites were the ducks. There were hundreds of them on the river, dabbling among the water weeds, bobbing under with their tails in the air, or clustered enthusiastically close to the walkway if we remembered to bring stale bread to throw to them.
The swans were more scary. They were big, and their large beaks looked ready to take a nip if they were feeling feisty.
The swans of course are famous. Some of the mute swans on the Thames belong to the Queen, others to two ancient guilds, the Vintners and the Dyers. Each year, toward the end of July, there occurs a ceremony called Swan Upping, during which Thames swans with cygnets are rounded up by official Swan Uppers, caught, checked for health, marked with the appropriate leg rings, and then released under the direction of the Swan Marker.
Every day, something new to see.
In the grounds of Windsor Castle in England stand thousand-year-old oaks so huge and gnarled and blasted it's easy to imagine them haunted by spirits. Shakespeare used this conceit in his play "The Merry Wives of Windsor."
When I was a Windsor wife in the early 1960s , I attended a performance by the Windsor Repertory Theatre of "Merry Wives" one summer evening in the castle gardens. Probably written to amuse Queen Elizabeth I, the play uses as its setting then-familiar Windsor landmarks, such as the 14th century Garter Inn on High Street and Herne's Oak in Windsor Great Park.
The play centers around the drinker and gambler Sir John Falstaff, known from the plays Henry IV part 1 and part 2. Short of money, he comes to Windsor where he attempts to seduce both Mistress Page and Mistress Ford in hope that at least one of them will share her husband's wealth with him. He writes each wife an identical letter, but the two women, who are close friends, immediately show each other their letters and are outraged.
The wives decide to teach Falstaff a lesson, and pretend to lead him on while planning his downfall. He is dumped from a laundry basket into the muddy River Thames, and beaten while disguised as the Old Woman of Brentford, who is believed to be a witch. With their husbands in on the secret, they concoct a final revenge for his clumsy insults to their virtue. Mistress Page sets the scene:
There is an old tale goes that Herne the hunter,
Sometime a keeper here in Windsor Forest,
Doth all the winter-time, at still midnight,
Walk round about an oak, with great ragg'd horns;
And there he blasts the tree, and takes the cattle,
And makes milch-kine yield blood, and shakes a chain
In a most hideous and dreadful manner.
You have heard of such a spirit, and well you know
The superstitious idle-headed eld
Receiv'd, and did deliver to our age,
This tale of Herne the hunter for a truth.
Falstaff is induced to dress as the ghost of Herne the Hunter and wait for the two women at Herne's Oak, where he is pinched and tormented by local children dressed up as fairies.
Since Herne's Oak has now fallen, exactly which tree it was—the one that fell in 1799 or the one in 1863—remains in dispute. Also unclear and undocumented are the origins of the myths about Herne the Hunter. Shakespeare was the first writer to mention him. His purported connection to ancient archetypes representing the primal power of nature may be an artifact of Victorian story-makers. Some evidence suggests there was a real game-keeper in Windsor Great Park named Herne or Horne, possibly in Elizabeth I's time, possibly earlier, who, having committed some great offence for which he feared a dreadful punishment, hanged himself on an oak tree. Maybe Mistress Page had it right: the memory of such an event at a scary-looking tree could be enough to start a legend about a ghost.