Archive for December, 2016
What I loved about living in England as a young woman in the 1960s was the traditions around the holiday season. On foggy street corners in London, vendors with portable braziers sold roasted chestnuts, hot in the hand, but so good. Butchers' shop windows would fill with huge hams, neighbors' kitchens be redolent with the aroma of figgy puddings steaming on stove tops. I would pull down the English recipe book my mother-in-law had given me and assemble ingredients for my Christmas cake: an assortment of dried and candied fruit, spices, juice, eggs, butter, brown sugar, treacle, flour, and the all-important dash of rum.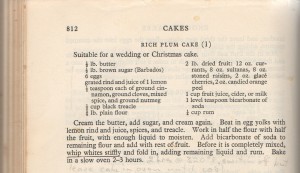 Making a proper English fruitcake is a multi-day affair. First, the careful preparation of the tin and timing of the baking so that it doesn't go dry. My Constance Spry Cookery Book devotes several pages to these matters. Then the making of the cake itself. Several days later, in preparation for icing, the cake is brushed with a warm apricot glaze. My cookbook declares:
The object of this protective coating is to avoid any crumb getting into the icing and also to prevent the cake absorbing moisture from the icing and so rendering it dull.
Next comes the layer of almond paste or marzipan, rolled out like pastry and smoothed on with the palm of the hand. A day or three later comes the smooth base coat of royal icing, made by mixing egg whites and lemon juice with the sugar. When this layer is perfectly stiff and hard the decoration is piped on.
When we moved to California, I continued to make Christmas cake for a few years, until I realized that fruitcake in America is the butt of seasonal jokes and that my lovingly prepared cake sat in the pantry scarcely touched. I am grateful that until his death a few years ago, my late brother-in-law Derek Heckler, who lived not far away, continued to bake and share a splendid traditional cake.
As earth and sun roll toward another pausing time, let us remember dear friends and family members now gone, and reach out in love to those still with us. However you celebrate the season, may it be filled with the traditions you hold dear.
My old black filing cabinet has yielded a treasure: the carbon copy of a 1960s letter to a newspaper editor. Reading it again, I'm struck by how much it reveals about my homesickness for the more casual lifestyle of New Zealand and my resentment of the strictures of English custom. I was reminded of these differences when my sister Alison, who lives on a beach north of Auckland, posted on Facebook a photo of her gathered family, and American friends of the family joked about the lack of shoes. Here's the 1964 letter:
The Women's Editor
The Guardian
Manchester
 Dear Madam,
As a fellow colonial I share [Guardian feature writer] Geoffrey Moorhouse's feelings about English clothing habits. The conformity begins at an early age. This summer my one-year-old toddler and I have been subjected to cold stares and even sarcastic comments from total strangers. The cause is his shoe-less feet. I am obviously considered a poor mother, for not providing leather for his feet, and looking round, I noticed that even during the hottest days, while my infant sat comfortable in only napkin and sunhat, most of his contemporaries were firmly laced into heavy shoes, and many were even inflicted with neatly buttoned shirt and tie.
I am not against shoes on principle. Now that the weather is turning cold, my son wears shoes and socks with his long trousers. But I do object to this pressure to dress young children according to society's idea of respectability, disregarding the dictates of the weather.  
I don't go barefoot in Mendocino. It's cold here, and there's burr clover and native blackberry underfoot. But sometimes I miss those carefree New Zealand summers of my youth.