Archive for the 'seasons' Category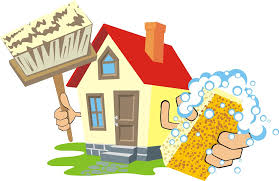 I'm wondering whether there's some evolutionary or hormonal factor that drives women (I don't know about men) to clean every inch of their new home when they move house. The thought came into my head when I reread a letter to my parents written when we were moving from our first apartment in Cupertino, CA to a tract house in the same neighborhood.
Feb. 2, 1970
… I cleaned the apartment, then of course rushed back here to try to get a bit more cleaning up and unpacking done. The previous owner was a pretty sloppy housekeeper – still, I guess everyone complains about the other woman's methods. Anyway, most of the house is now more or less presentable …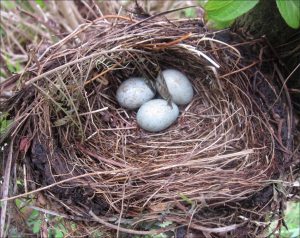 Looking for information on the topic, I found lots of material on what is called the "nesting instinct," the urge most pregnant women have in their third trimester to scrub floors, sort sock drawers, or perform other cleaning and organizing tasks. It appears to be triggered by an increase in the body's estradiol, the major female sex hormone, and is "an adaptive behaviour stemming from humans' evolutionary past."
Or, as webmd.com puts it: "Just as birds are hardwired to build nests for protecting their young, we humans are primed to create a safe environment for our new offspring."
I wasn't pregnant in 1970, so I looked up sites with information on spring cleaning. I found checklists, some tentative discussion of the custom's origin in ancient traditions and religious practices, as well as practical reasons for the task, especially in places of cold winters and times of sooty wood- and coal-burning heating facilities. And on sites about moving into a house, there were checklist after checklist, all of them assuming that the previous owner/tenant is by definition a germ-carrying slob, and that the new occupant is motivated to clean every inch of the place.  A few examples:
From Angie's List:
"Previous residents surely cleaned the bathroom, but there is no harm in scrubbing away your own way as this room can be one of the more germ-filled places in the house."

"The insides of all cabinets and drawers were most likely ignored by the previous tenants or homeowners."

"Dust the top of the doors and disinfect all doorknobs."
From Bed Bath & Beyond:
"Your dream home sure looked spotless during the open house. But gird yourself: No matter how clean the place seemed, it's likely there are some dirty surprises in store for move-in day."
[This site pays particular attention to chandelier light fixtures, crown moldings, ceiling fans, doors & knobs, refrigerator vent, dishwasher, furnace, ductwork, washer & dryer]
From The Spruce:
"You should always do a thorough clean before your stuff arrives."

"The kitchen is probably the first place to start. Not only because it tends to be where icky sticky things collect, but also because you'll want to get rid of the former tenant's cooking smells."
[Detailed instructions for fridge, stove, cabinets, counters, sink, walls, floors]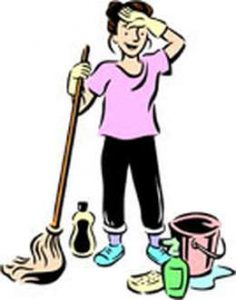 While not as freaked out about other people's germs as manufacturers of cleaning products might wish, I've done a reasonably thorough cleaning of every house I've moved into. (Except the last; it was newly built, so apart from a little carpenter's dust, it was pristine.) I've done my share of spring cleaning too, and found a kind of primal satisfaction in touching every surface of my home with a cleaning cloth. I'm wondering now whether there might be a hormonal component to the spring cleaning urge. It seems like a good excuse. I grow old. My estrogen levels have decreased. In recent years, I've found myself gearing up for spring cleaning and abandoning the task halfway through the pantry shelves. Maybe this spring I'll actually finish the job. Or not.
Here we are at the turning of the year. It's been a hard year in many ways. My particular concern has been the environment and natural resources. I've had to witness oil and gas interests take precedence over the protection of fragile landscapes, sacred cultural resources and vulnerable water supplies. Wildfires have devastated Northern California, where I live, including parts of Santa Rosa, the city where we go for many services. A huge fire now threatens Santa Barbara, in southern California, where I lived in the 1970s. Here on the northern coast, warming ocean temperatures have wrought havoc on the kelp forests and the sea creatures that depend on them. Throughout the world, as starving people flee drought-stricken lands, tribal hostilities are increasing.
Meanwhile, the days follow each other. The sun's arc rises lower and lower in the sky, its rising and setting further and further to the south, and the darkness of longer duration. There will be a pause, a solstice or sun-standing-still, and then a return of the light, and we will celebrate, in our various spiritual traditions, a return of hope.
May you all find hope and joy in the days to come.
When I arrived in California from England's green and rainy land, I thought I must have landed in Camelot. Remember that song from the 1960 Lerner & Loewe musical?
The rain may never fall till after sundown
By eight, the morning fog must disappear
In short, there's simply not a more congenial spot
For happy-ever-after-ing than here in Camelot
It rained for a week or two after we arrived, from late May into early June. My new neighbors kvetched, "Enough already!" After a normal rainy winter, early spring had been dry. Now the rains had started back up, and they didn't like it. I, however, was enchanted. It truly only rained at night; the days were warm and sunny.
Eventually the rain stopped. Grass on the hills turned from green to gold. I had learned about Mediterranean climate in geography class at school: how it occurs only in five parts of the world, on the western sides of continents, between roughly 30 and 45 degrees north and south of the Equator. How it is associated with rotating high pressure zones that migrate through these sub-equatorial latitudes depending on the angle of the sun, bringing clear skies in summer and moving equator-ward to allow frontal cyclones to bring rain in winter.
Now I was living this rare climate. Warm sunshine day after day. Golden hills faded to a dusty tan. As summer crept toward fall, I found myself longing for the rain and dark I had hated in England. I discovered that my neighbors, too, eagerly awaited the first rain of the season. We celebrated together as the sky darkened and the first drops fell. I was learning to be a Californian.
I still ponder why it meant so much, that Christmas morning in England in the 1960s, that a robin sat on the back fence. The field behind the fence was white, the fence wires thick with hoar frost, and the little red-breasted bird made the scene perfect. Finally, I told myself, a 'real' Christmas.
I have tried for many years to clarify my feelings about the disconnect between the traditional trappings of the season and my experience of growing up in New Zealand, where the seasons are reversed. My childhood Christmas memories are of summer: the tree laden with oranges in my grandmother's garden where we hung our presents and picnicked on the lawn; the scent of magnolia blossom outside the church on Christmas Eve.
Also the Christmas cards with their images of snow (which I'd never experienced) and yes, the English robin. I knew about robin redbreast from the old nursery rhyme, but until that Christmas I hadn't seen one.
Now on the coast of Northern California, I have a different understanding of how to celebrate the winter season. Our multicultural society recognizes many winter festival stories and traditions: the birth of Jesus in a stable, the menorah candles of Hannukah, the Swedish light-bringer St. Lucia, the gift-bringer St. Nicholas (known also as Santa Claus), and many others. The celebration that holds the deepest meaning for me now is Winter Solstice, the return of the light. From summer to winter, I note where on the horizon the sun sets, and how the darkness grows. Even as clouds gather, the place where sun disappears into ocean fogbank moves steadily to the south. When the prevailing westerly wind shifts to the southeast, I know to expect the winter rains. Sometimes a shower or two, sometimes, such as this past week, a prolonged deluge that floods rivers, downs power lines, and closes roads.
Meanwhile, the earliest spring flowers are breaking bud, and over-wintering birds gather hungrily at my feeder: Steller's jay, spotted towhee, hermit thrush, acorn woodpecker, hordes of white-crowned sparrows. I love them dearly. I am happy that I have learned to understand the connection between the flow of seasons and human efforts to explain them with stories and festivals. And I still have a place in my heart for the memory of that cheery robin redbreast who brightened an English winter.
What I loved about living in England as a young woman in the 1960s was the traditions around the holiday season. On foggy street corners in London, vendors with portable braziers sold roasted chestnuts, hot in the hand, but so good. Butchers' shop windows would fill with huge hams, neighbors' kitchens be redolent with the aroma of figgy puddings steaming on stove tops. I would pull down the English recipe book my mother-in-law had given me and assemble ingredients for my Christmas cake: an assortment of dried and candied fruit, spices, juice, eggs, butter, brown sugar, treacle, flour, and the all-important dash of rum.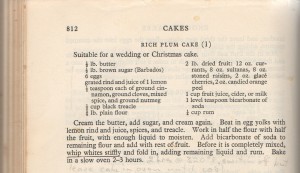 Making a proper English fruitcake is a multi-day affair. First, the careful preparation of the tin and timing of the baking so that it doesn't go dry. My Constance Spry Cookery Book devotes several pages to these matters. Then the making of the cake itself. Several days later, in preparation for icing, the cake is brushed with a warm apricot glaze. My cookbook declares:
The object of this protective coating is to avoid any crumb getting into the icing and also to prevent the cake absorbing moisture from the icing and so rendering it dull.
Next comes the layer of almond paste or marzipan, rolled out like pastry and smoothed on with the palm of the hand. A day or three later comes the smooth base coat of royal icing, made by mixing egg whites and lemon juice with the sugar. When this layer is perfectly stiff and hard the decoration is piped on.
When we moved to California, I continued to make Christmas cake for a few years, until I realized that fruitcake in America is the butt of seasonal jokes and that my lovingly prepared cake sat in the pantry scarcely touched. I am grateful that until his death a few years ago, my late brother-in-law Derek Heckler, who lived not far away, continued to bake and share a splendid traditional cake.
As earth and sun roll toward another pausing time, let us remember dear friends and family members now gone, and reach out in love to those still with us. However you celebrate the season, may it be filled with the traditions you hold dear.
Sumer is icumen in
Lhude sing cuccu
Listen to this Medieval rote song
My first spring in England, late afternoon in Windsor Great Park. Green-gold light through ancient oaks, the air rich with leaf-mold and violets. A cuckoo calls. I have heard the sound all my life, in music and poems, but never before in the wild.
Listen to the cuckoo calling in this recording from the  British Library
 As I stand listening, this spring in 1962, something shifts in my thinking. It is as if previously I saw the world through two mesh screens, one named Southern Hemisphere and the other Northern Hemisphere, half a year out of alignment with each other, so that my view was blurred by the moiré patterns their meshes made. The religious festivals my ancestors brought from the northern hemisphere when they emigrated to New Zealand lost their old association with the seasonal cycles of life and death when celebrated in the reversed seasons of the southern hemisphere.  In consequence, I felt, even as a child, a subtle sense of having been cut off at the roots, of being, even after several generations, transplanted British.
Images float into my mind. Mid-morning, Christmas Eve, at All Saints Church in Tauranga, NZ. Strewn mounds of flowers deck the chancel steps. The Altar Guild ladies are filling shiny brass vases that stand either side of a red-draped altar. Bronze-purple foliage of copper beech, fans of gladiolus spikes, the tropical exuberance of canna. They add dahlias, roses, bougainvillea until the reds vibrate.
Sunlight through stained glass glitters on the sharp points of holly springs that I strew along the dark wood windowsills, hiding jam jars filled with red geranium flowers. The holly bears no berry here, this time of year, and the carol I hum under my breath echoes in an empty place inside me. Later, at midnight services, the congregation sings of light in darkness and the falling of snow. We emerge to warm air, misty moonlight, and the scent of magnolias. This Christmas is not real, I think to myself. It's pious make-believe.
Easter: after morning church and family lunch, I gather with siblings and cousins on the porch to smash the Easter eggs we have all been given. Molded of hard sugar, they are pastel pretty, with piped-on decorations of flowers and leaves, the symbols of spring. Having gorged ourselves, we scamper off to scuffle through autumnal leaves.
My reading in college, particularly J.G. Frazer's The Golden Bough, helped me recognize that Christian festivals have pagan roots: the ritual victim dies at planting time; the winter birth is the rebirth of the sun. As the cuckoo calls again, cu-coo, over and over, quietly, the blurred meshes of my hemispheres resolve and I see through: myself and my people bound by tangled apron strings to the life our forbears left, and to the earth itself, an old reality, almost forgotten.
In December of 1962, before there were mail codes or mechanical sorters, I worked for a week at the post office in Windsor, England, helping with the Christmas rush. I mentioned it in letters to parents:
18 Dec. 1962
…Hope this reaches you in time for Christmas – along with the other thousands of tons of mail being posted this week. I know – I have to sort the stuff. I am spending the week working in the sorting room at the post office. Very difficult job! – turning the stamps up the right way as the letters come out of the postbags. Have to work pretty hard, but it's rather fun – very cheerful, friendly crowd – and good money.
26 Dec. 1962
…I had a very interesting week in the Post Office. Halfway through the week I was promoted to sorting, which was a bit more fun, though harder work than facing up.
Those were the days, before email, Facebook, Twitter and other social media, when the annual holiday greeting card was how one kept in touch with extended family and friends. According to Wikipedia the custom of sending greeting cards has a long history, dating back to the ancient Chinese. The postage stamp was introduced in England in 1840. Cards started being mass produced by the 1850s. From then on, mailboxes became crammed each December with penned good wishes.
Every card and letter had to be sorted by hand. Mechanical sorting, which depended on reducing the address to a machine-readable form, came in a few years after my stint at the Windsor post office: the 5-digit ZIP code was introduced in the U.S. in 1963, and England's alphanumeric postcode system in 1966.
Communication methods have changed, and fewer greetings now go by "snail mail." The U.S. Postal Service reports that First-Class Single Piece Mail; that is, mail bearing postage stamps, such as bill payments, personal correspondence, cards and letters, etc., declined by 47 percent in the decade 2005–2014. But that urge to reach out to those we love during the holiday season is still with us.
Last week we went to a Swedish party – the St. Lucia festival, I wrote to my parents from England in mid-December 1962. The background of it seems somewhat confused – the story of a saint mixed up with old pagan mid-winter rites.

My confused reaction to this experience opened me to the concept of cultural adaptation: the way stories and beliefs from one tradition are assimilated into another. Growing up as a Christian in New Zealand, where the seasons are the opposite of the Northern Hemisphere, I was aware of an odd disconnect in the trappings of our festivals, but as yet did not fully comprehend why this should be.
The event was also a fun field trip for our group of Swedish language students at the College of Further Education in Slough, west of London. Tony and I had become enamored of all things Scandinavian, and hoped to go there one day. Our teacher, Ingrid, the daughter of a diplomat based in London, was eager to introduce us to London's Swedish community. I tried to summarize her explanation of the festival in my letter, which continues:
The cattle were slaughtered about Dec. 13 for Christmas, and the women used to come out early in the morning with the men's breakfast. It developed into a ceremony in which a young girl, attended by maidens and young boys, & wearing a head-dress of candles on her head, goes early in the morning to the homes of people in the district bringing hot coffee. Apparently in Stockholm anyway it has developed into a sort of beauty contest, but in London the Swedes are more Swedish than at home & we saw a more genuine procession of children (the little boys looking very self-conscious) singing charming old Swedish carols, & all carrying candles in the darkened room. Very effective & beautiful. The evening finished with coffee & Swedish cakes & pastries at candle-lit tables.
I later learned that before the Christian west adopted the Gregorian calendar in the late 1500s, St. Lucia's Day fell on the winter solstice, and that it originally honored a goddess who brings the light in the dark Swedish winters. Traces of this solstice celebration linger in the words of the carols sung by the children.
The event we attended at the Swedish church in London also included a crafts fair, which I wrote about for my New Zealand newspaper. Here is the text:
SWEDISH CHRISTMAS DECORATIONS
Our Christmas tree will be decorated with a Swedish angel this year. She is made out of barley straw, pale shining gold pieces neatly tied together. In the early days in Sweden, when the floors of homes were covered with straw to keep out the bitter cold, Christmas guests used to play with the shining straws, plaiting and twisting them into quaint figures. Now Swedish houses are centrally heated, but the custom has persisted, and wherever in the world Swedish people live, at Christmas their homes are always decorated with the golden figures and wreaths.
The Swedish community in London recently held their annual church fair, and out came the traditional Christmas gifts and decorations. As well as the charming angels, there were straw animals, goats and horses and dogs, and handsome plaited wreaths for hanging at the door. Other figures were turned or carved out of wood, and brightly painted. Particularly impressive were ranks of glowing red wooden horses in varying sizes, each painted with gaily decorated harness. Very thin pieces of wood were carved into the tails and wings of formalized birds. By contrast with the tinsel and glitter of English decorations, these traditional designs have a striking simplicity of line and a quaint charm that is refreshing and timeless.



Maureen is exploring an old black filing cabinet that contains 55 years of her papers and memorabilia.
I am thankful today for my new refrigerator. Our old one died a few weeks ago. Its replacement, a New Zealand-made Fisher & Paykel, was delayed by labor problems at the Los Angeles docks and eventually had to be unloaded in Vancouver and trucked down to Mendocino. Meanwhile Canclini's, our local appliance dealer, gave us a smallish loaner, which has been parked out in the garage. We have gotten used to traipsing back and forth carrying milk or butter, and had set up ice chests on the back porch in preparation for an overflow of drinks and produce to feed our visiting family and friends during the Thanksgiving holiday.
It would be inconvenient, but we would cope. We've survived worse holiday crises. There was that time thirty-five years ago when we were remodeling an old house in Palo Alto. The kitchen walls were stripped down to the studs. Crates of new kitchen cabinets filled the living room, blocking access to the fireplace. I noted in my journal: At least I did warn [our friend] Judi that we might be picnicking amongst the mess. … [Our teenage sons] moved the kitchen cabinets today so that the sitting room & fireplace are usable again.  Until the gas lines are reorganized, we have no heat, and the weather is getting colder, so it was important to be able to have a fire in the fireplace.  We have plenty of firewood at least.  On 11-30-1979 I noted that we had a delightful 'old-fashioned' Thanksgiving with Judi and her son Mark, who had been friends with our sons since they were little boys.
Thanksgiving a year later, the second floor completely rebuilt, we were waiting for the new roof to be completed and keeping a wary eye on the weather.
Journal 11-24-1980: The disaster finally happened over the weekend – eight weeks good luck couldn't last.  It rained Friday evening.  Trusting in the plywood sheathing, we didn't cover the floor with plastic all that thoroughly – a mistake.  Throughout the night new drips opened up in the ceiling, mainly in the places where old plaster joined with new or at best was sagging or cracked.  Buckets and towels all over the floor.  We had to move out our bed because of a drip above us, which turned into a downpour slightly further along the crack about 3:00 am.  David's room also, where old gable met new roof, had a line of drips.  Nasty watermark on the ceiling (most of which we were going to redo anyway).  No permanent damage to floor.  Spent all Sat. cleaning up in preparation for Thanksgiving, which I suspect is going to be as improvised as it was last year, though in different ways.  Kitchen is finished, though with temporary lighting (as is all of ground floor).  Can't use the fireplace – need extension flue, which is still being built. Will have to decorate at eye level, prevent people's eyes from moving upward, because of water marks on ceiling and upper walls.  Stairwell still a mess of lath and ladders.
We survived that Thanksgiving holiday too. But this year we had a last-minute rescue. The kind men from Canclini's brought us the new fridge on Wednesday morning and also left us the loaner until after the weekend, just in case we needed extra space. The turkey sits there now. In a little while, I'll head out to the garage one more time and bring it in to the oven.
Thank you, Canclini TV & Appliances, and Happy Thanksgiving everyone.
Now that our rains have finally started, the newts have come out of hiding. Last week I spent a couple of days at Green Gulch Farm, a Zen Buddhist retreat center and organic vegetable farm near San Francisco. California Newts were all over the paths. Their brown skin smooth, their underbellies a brilliant golden yellow, they were marching to the streams where they breed.
This morning we had to step around another California Newt on a path at the Mendocino Coast Botanical Gardens, a little one in its rough-skinned terrestrial phase. It was reluctant to move, since it was busy consuming a large earthworm; the last half-inch of the worm still hung from its mouth.
These encounters reminded me of visiting Montgomery Woods some years ago, when their close relatives the Red-bellied Newts were everywhere. I  became fascinated with the story of their breeding migrations and wrote this poem, which was published in my 2007 chapbook, Quickening.
Red-Bellied Newt (Taricha rivularis)
What stirs, with the rain, that urge to return?
Some years she ignores the tingle in her nose,
the scent of that particular section of stream
where under a stone she hatched into a nymph,
then played for a year in the rippling water
before crawling transformed up the bank.
Summers she hides. Home is a secret hollow
under gnarled redwood roots in the ancient grove.
Some winters too. But once in a while, when the rains begin,
she emerges to make the journey to her breeding place.
Purposeful, she crawls, the red of her feet and belly
bright against the redwood duff,
navigating by smell to the rocky stream a mile away,
not home exactly, but the place she came from,
that pulls her back as it pulled her mother back.
Here she will mate, immersed in the water that gave her life,
deposit the fruits of her procreation under a stone,
then wander off to find good forage for the summer.
For thousands of years, as the giants grew overhead,
her kind have made this journey, secure in their faith
that the stream will still flow clear and fast over rocks.
They raise a question: what pulls us humans,
and to what deep places, and what is it we deposit,
like fertile newt eggs on the undersides of stones?