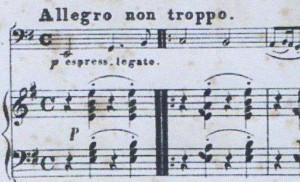 I fell in love with Dietrich Fischer-Dieskau when as a college student I heard his glorious baritone caress Schubert lieder in Christchurch's boxy old Town Hall. I fell in love again when Mstislav Rostropovitch strode onto the same stage and plunged immediately into a Brahms cello sonata.
From an early age, music has been an important part of my life. At the age of thirteen I was playing second violin in my home town's municipal orchestra. We weren't very good, but we were ambitious; the major work of my first concert was Beethoven's 5th Symphony.
In Christchurch I played in the Canterbury University orchestra, and discovered the joys of playing Bach as an ensemble, of listening for the counterpoint of continuo and chorus in one of his great chorales.
I never seriously considered a career in music, but have continued to be an enthusiastic listener, going to as many concerts at budget allows. So it was with great excitement that my husband Tony and I explored London's musical offerings when we arrived in 1962. Re-reading the letters to parents saved in my old black filing cabinet, I see that nearly every one contains mention of some musical event.
April 9
[At Westminster Abbey] While we were there a choir and orchestra were having a final rehearsal of Bach's "St. Matthew Passion."
April 28
On Good Friday we attended a performance in the Royal Festival Hall of Bach's St. Matthew Passion by the London Choral Society. … We went there again on Wednesday evening for an all-Mozart concert, and we were sitting in the choir seats behind the orchestra – a favourite place for music students, as you get a wonderful view of the conductor, and feel right in the orchestra.
May 9
Last night we went to the Royal Ballet at Covent Garden – doesn't that make your mouth water? It started off with a few divertimenti – rather pretty and fluffy, and the a very fine performance of "Les Sylphides" with the Russian dancer Nureyev stealing the show – you remember he defected from Russia some time ago. But the reason we went was for Stravinsky's "Rite of Spring" – tremendously exciting, jagged and violent. In spite of the narrow benches in the gods, where you knees dug into your neighbour's back, it was a great thrill to be there. Covent Garden seems to be a place for the dedicated ballet enthusiast – you rarely hear an audience go quite so crazy at other forms of entertainment. Outside the opera house is fruit market – it was quiet at night, but the smell of fruit was everywhere, and we walked down through the trucks and piles of cases back to the Strand.
May 25
Went to Bertrand Russells' birthday party last Saturday, in the Festival Hall. Concert by the London Symphony Orchestra – one of the finest performances of Mozart's 39th Symphony that I have ever heard. Also Lili Kraus in a very impressive performance of a Mozart piano concerto. Lots of speeches etc. too – made us realise what an outstanding leader Russell is.
The music comes back to me as I re-read my letters, and I recall what a wealth of culture London had to offer.