I'm so proud of young novelist Josh Weil, whom Mendocino Coast Writers Conference picked as a rising star and invited to be on faculty at our 2013 conference. Here's news from Josh worth sharing:
Dear Friends,
I've got a bunch of news to share with you—the first reviews of The Great Glass Sea, a just-released long-list for a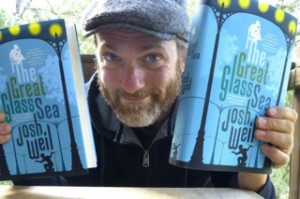 literary prize, the most incredible first-edition program I've ever seen, 
my complete book tour schedule
—but there are two reasons, above all else, that this 
issue of The Gazette is a pretty special edition.

First, The Great Glass Sea is, as of tomorrow, officially out in the world.  Here I am with the very first copies I got to hold in my hands:
I hope you get to hold one soon, too.  In part, because the folks at Grove Atlantic have simply created such a beautiful book, with rough-cut pages and my drawings for endpapers and illustrations
 at the start of each chapter — the kind of object that reminds me why ebooks will never totally replace the real thing:
But mostly I'm hoping to share the book with you because it means so much to me.  It feels like a part of me, as if I'm sending a child of mine out into the world.  After all, I've nurtured it for five years, now.  And I've worked harder on it than I've worked on anything in my entire life.  It's been all consuming.  It's taken everything I had as writer.  And it would mean the world to me if you might take a look at it now.
Or you can pick one up at one of the many 
readings
 I'm doing over the summer.  There's a good chance I'll be coming somewhere near you on my cross-country (and across again) tour.  Click
here
 for the 
full schedule.
I would love so much to see you, say hi, catch up, or simply sign a copy.
The pre-publicaton reviews have been all I could have hoped for:
"[An] impressive debut…As broad as its themes are—touching on political, philosophical and historical divisions—Weil's first novel is rooted in family and fine storytelling; it's an engaging, highly satisfying tale blessed by sensitivity and a gifted imagination.

"

"A tale of longing and sadness, threaded by Russian folklore and heavy with the weight of love…resplendent and incandescent."

"A well-timed dystopian tale, the novel beautifully details both the politics of [an] hypothetical Russia—"oligarchs bred beneath the clamp of communism let loose upon loot-fueled dreams"—and its impact on one small family." 
And the first newspaper review (out even before the official publication date!) was even better:
"If complex literary novels really are done for, Josh Weil must've missed the text message. His formidable "The Great Glass Sea" knits together strands of traditional Slavic folklore and futuristic speculative fiction to create a passionate reflection on technology and personal happiness. Spanning almost 500 pages, the novel poses mind-bending questions about politics, ecology and the ambivalent closeness of siblings…Weil pulls off dazzling strokes of storytelling…His distinctive voice obliges readers to slow down and swish certain passages around before swallowing…While keeping the sophisticated themes afloat (science vs. nature, the state vs. the individual, family obligation vs. ambition), almost every page flows with respect for the flawed, endearing heroes, Dima and Yarik. Pushing the envelope on literary artistry even further, each chapter begins with a pen-and-ink illustration by the author….

A genre-bending epic steeped in archetypal stories, "The Great Glass Sea," rises above the usual Cain-and-Abel formula by way of sensitive, resourceful craftsmanship." 
But you know what might be the most exciting thing that's happened yet?  
This
:
Powell's, the great independent bookstore in Portland, OR, selected 
The Great Glass Sea
for its amazing 
Indiespensable program
: a specially designed slipcase, a signed copy of the novel, a booklet of an extensive interview with me, and other crazy-cool extras.
Although, this was pretty cool, too: Just last week I got word that 
The Great Glass Sea
 has been 
long-listed
 (along with about 20 other terrific novels) for 
The Center of Fiction's Flaherty-Dunnan First Novel Prize
.  No matter what happens from here on out, it's an honor to be up there with such great debuts by authors I admire so much.
And, in case you're wondering what all the fuss is about, here's a chance for you to check it out yourself: an 
excerpt
 from the novel over at 
Guernica
 and an 
extract
 from the book online in 
Granta
.
And
 if you're wondering why the heck I wrote this book
about Russia 
(of all things!)
, just yesterday, 
The New York Times
 Magazine ran my essay—
Looking for the Russia I Once Knew
—about, well, exactly that.
Yup, Jen's pregnant.  With a boy.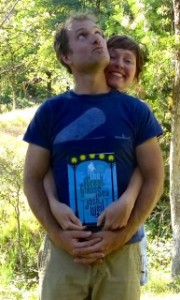 Although maybe that is book-related after all:
And, heck, while we're at it let's make it three babies.  Since it happens to be my birthday today.  Here's me 38 years ago: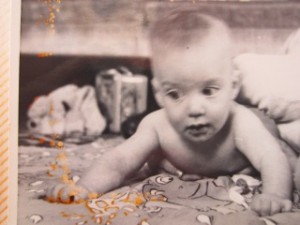 And here's me, now, signing off and saying thank you, again, for continuing to care about what that tyke's grown up to love, what the writer he became now does, these words on a page that I am so lucky to be able to share with you.
Much warmth and thanks,
Josh