Posts Tagged 'Wilma Reading'
When Wilma Reading and I stood in the wings watching the Oscar Peterson Trio perform in Christchurch's Theatre Royal  on January 31, 1961, we were two very young women over-awed by the glamour of our situations. Being backstage as a newspaper reporter was new to me: the blazing lights and deep shadows, the flats with their hanging ropes, the smell of dust, the stagehand snapping at us to keep our voices down. For Wilma it was the experience of being abroad for the first time, and performing with world-famous musicians. "I was scared when I knew I was coming. I am still scared when I go on to the stage. But I guess it will always be like that."
Here is a 1961 audio clip of the great Canadian jazz pianist Oscar Peterson and his trio.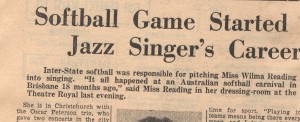 Only eighteen months previously, Wilma Reading was a typist in an office in Cairns, North Queensland, Australia who played softball, hockey and basketball in her leisure time. She made the State team for a big softball carnival held in Brisbane. "On the last evening of the carnival, the softball teams had a get-together in a coffee lounge. Someone persuaded me to get up and sing for them, to add to the fun."
 Among the patrons of the lounge that evening was the leader of a Brisbane jazz band, who invited her to come and sing for the band. "I had to go home and talk it over with my parents, and they let me go."
 Engagements at a Brisbane hotel led to others in nightspots in the city. Later she went to Sydney, where she signed a five-year contract with a recording company. They are all popular songs. "I prefer jazz, but the company prefers popular tunes, as they sell better."
 In this 1960 video, Reading sings one of the currently popular tunes, "My Little Corner of the World"
Wilma Reading sings "My Little Corner of the World"
Future plans were a little vague, she told me. "I don't think I could go back to being a typist, although I guess I could if I had to." America and perhaps Hollywood figured fairly prominently in her dreams. "Still, there's plenty of time and I have a long way to go."
 Wilma Reading went on to a 40-year career performing with major jazz musicians and on television. She was the first Australian to appear on The Tonight Show Starring Johnny Carson, had a residency at New York City's Copacabana nightclub, and toured with Duke Ellington.
There's a long and fascinating transcript of a TV interview with her at
http://www.abc.net.au/tv/messagestick/stories/s3224613.htm
 As we stood in the wings that January 1961 evening, she confided that her main worry was how she would get on with the famous Oscar Peterson Trio. "Many musicians have no time for vocalists, but I have found them wonderfully kind and helpful. They are very natural and friendly, and very good to work with. They have given me a lot more confidence than I had before. Aren't they amazing?" she whispered as the three imposingly large black men pulled sweet sounds from piano, bass and drums.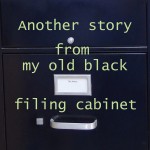 Maureen is exploring the contents of an old black filing cabinet in her attic, which contains 55 years of her writing notes and memorabilia.