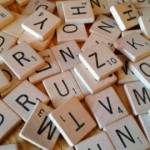 "This shipboard life is curiously hypnotic," I wrote to my parents a few days out from Wellington in February of 1962. "Absolutely nothing to do all day but sit & watch the waves go by. You soon find it practically impossible to do any thing else." The 'what else' we found as we sailed for two weeks across the tropical Pacific was the game of Scrabble. Every afternoon we gathered on the deck with a group of shipmates, one of whom had a Scrabble game in her luggage. While the nautical miles accumulated, we bonded over the game, and have continued to stay in touch with some of them over the many years since.
After the storms and seasickness of the first week, we had perfect weather: sunny days, calm seas, and just enough breeze to keep things cool. I decided that ocean voyages were not so bad after all.
I had time to dream. When my husband Tony and I carried our bags up the gangplank of the "Johan van Oldenbarnevelt" earlier that month, bound for New York and then England, I felt I was walking in the steps of my role model, the great New Zealand writer Katherine Mansfield, who also went abroad at a young age to pursue a literary career.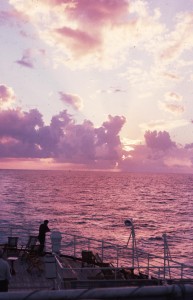 As the familiar constellations of the Southern Hemisphere receded southward, we discovered the truth of Samuel Taylor Coleridge's lines in "Rime of the Ancient Mariner:"
The Sun's rim dips; the stars rush out;
At one stride comes the dark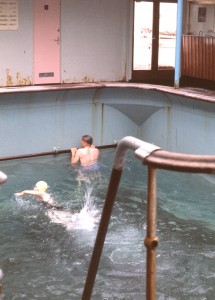 My letters comment on the group of people we got to know: "… Mainly the crowd from our table. We have had some very good discussions and arguments about all sorts of things. The brain needs some exercise after sitting looking at the sea most of the day. So does the body – we are getting good at deck tennis (our own rules), and have spent quite a bit of time in the swimming pool. When the sea was rough the water in it sloshed back and forth terrifically, but is better now."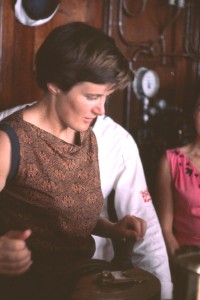 A few highlights of the voyage float into my mind. A visit to the bridge, where I was allowed to steer the ship. Watching flying fish and dolphins leap out of the water close to the ship. The obligatory visit from King Neptune the day we crossed the equator. But mostly I remember playing Scrabble on deck with our new friends, while Indonesian stewards in white jackets rattled tea-trolleys.
I haven't played Scrabble in years, and don't remember what happened to our old game set. But this week we bought ourselves a new one. Nostalgia filled my heart as I pulled out from the bag a handful of little wooden tiles.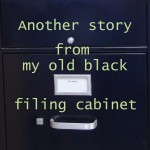 JVO photographs are by Tony Eppstein.
 Maureen is exploring the contents of an old black filing cabinet, which contains 55 years of letters, notes and memorabilia.