Posts Tagged 'nuclear testing'
While he was completing his degree, my husband Tony worked as a physicist at New Zealand's National Radiation Laboratory in Christchurch. One of his tasks was testing for the presence of the radioactive isotope Strontium-90 in children's milk teeth This 1960 photograph shows him working in the lab.
Since the end of World War II in 1945, the United States, along with its allies France and Britain, used the Pacific region north of New Zealand as a testing ground for nuclear weapons. By the mid-1950s, casual attitudes about fallout from these tests had given way to concern. In 1957 the New Zealand Government charged its Department of Health with monitoring environmental radioactive contamination in New Zealand and the Pacific areas with which New Zealand was associated. Since the National Radiation Laboratory in Christchurch was already monitoring radioactive pollution and controlling the safe use of ionizing radiation in medicine, education, research and industry, it seemed a logical extension to extend its responsibilities to collecting samples, analyzing and interpreting data on environmental levels of radioactivity.
The idea of using of children's milk teeth most likely came from the Baby Tooth Survey. This project was started in the US by the Greater St. Louis Citizens' Committee for Nuclear Information, in conjunction with Saint Louis University and the Washington University School of Dental Medicine, and inspired similar initiatives in other parts of the world.
Strontium-90, which is chemically similar to calcium, is absorbed from water and dairy products into bones and teeth, and has been linked to bone cancer and leukemia.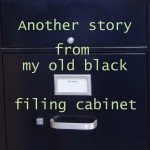 In New Zealand, evidence from the National Radiation Laboratory's monitoring efforts helped moved the country toward opposition to French nuclear tests at Mururoa and to American warships' visits to New Zealand.
 —–
Maureen is exploring the contents of an old black filing cabinet in her attic, which contains 55 years of her writing notes and memorabilia.