Posts Tagged 'motion study'
If you take the ferry from Wellington, New Zealand across Cook Strait and through the Marlborough Sounds to Picton, at the northern end of South Island, you will sail past the entrance to Curious Cove. At the tip of that narrow inlet is the tiny fishing camp where I worked through all my college vacations. Reachable only by boat, Curious Cove was a magical little world. The job, passed down through word of mouth by University of Canterbury women students, was perfect for this impoverished student, with board and lodging provided, nothing but a tiny tuck shop to spend money in, and a nice paycheck at the end of the season. I started off as a kitchen hand and was later promoted to second cook.
The guests, about 120 at a time, would come in for a couple of weeks. We would feed them a full breakfast, then scramble to pack lunch sandwiches for those going out fishing. Those who stayed behind got freshly baked scones with their mid-morning tea, and a salad and cold cuts lunch. By late afternoon, when the launch, "Rongo" hove into view with Charlie the skipper at the helm, the kitchen crew was already at work on the evening meal.  It would be plain, traditional New Zealand fare: a roast with gravy and several vegetables, plus a dessert such as apple shortcake with custard.
Here's a classic New Zealand apple shortcake recipe.
Almost everything was made from scratch. The 1950 movie Cheaper by the Dozen, the story of time and motion study experts Frank and Lillian Gilbreth and their twelve children, was as big a hit in New Zealand as it was in the U.S. Following the Gilbreths' methods, the Curious Cove kitchen crew, being university students, amused ourselves by figuring out more efficient ways to do things.

I wrote this little column in 1960 or '61 as a filler for the women's page of The Press, Christchurch's morning newspaper.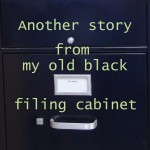 Maureen is exploring the contents of an old black filing cabinet in her attic, which contains 55 years of her writing notes and memorabilia.