The memoirist Judith Barrington and I have a ship in common. Her memoir Lifesaving has at its center the cruise ship "Lakonia," which departed Southampton on December 19, 1963, on a Christmas voyage to the Canary Islands. Three days later, a fire broke out. In the ensuing confusion and panic, a small group of passengers, including Judith's parents, were left stranded without lifeboats and drowned.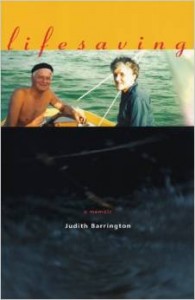 Lifesaving is the story of a young woman struggling to become an adult in the shadow of this loss.
On February 13, 1962, the previous year, my husband Tony and I left New Zealand on that same ship. At the time her name was the "Johan van Oldenbarnevelt," of Stoomvaart Maatschappij Nederland (SMN), also known as the Netherland Line. It was not quite her last round-the-world voyage under this flag; the maritime historian Reuben Goossens notes that her final departure from Wellington, NZ was in January 1963.
"What was it like on board?" Judith asked me. "I know my parents were on a cruise ship, but I can't get a picture in my head of those staterooms or of being on that deck."
I told her as best I could of the richly carved dark wood paneling that decorated the staircases and staterooms. Reuben Goossens notes that the décor was the work of famed Dutch artist Carel Adolph Lion Cachet (1864-1945) and sculptor Lambertus Zijl (1866-1947). Lion Cachet "took a great delight in using some of the most exotic timbers and then mixing them with a range of materials, from marble, polished shell to tin and other unique materials. Décor throughout the ship reflected the colonial links between the Netherlands with the Far East." Lambertus Zijl created many fine sculptures and reliefs that were to be found throughout the ship.
Tony and I also had the sense of being on a ship with a long history. The JVO, as we lovingly called her, was launched in 1929, and was one of the most luxurious ships to be placed on the international trade route to the Dutch East Indies. She was requisitioned as a troop ship during world War II. After the war, she brought large numbers of British and Dutch immigrants to New Zealand under a government-sponsored program that provided free or assisted passages.
Refitted as a one-class cruise ship in the late 1950s, the JVO offered round-the-world and trans-Tasman cruises. Competition from airlines was by then reducing the demand for ships as a standard mode of passenger transport across seas, though airfares were still way beyond the means of most young New Zealanders. We obtained a lower level berth on the JVO for about $160 each. According to a 1963 Pan Am schedule an airline ticket from Auckland to London would have cost about $900.
So the JVO was sold in March 1963 to the Greek Line, and renamed the "Lakonia." The cruise on which Judith Barrington's parents perished was her maiden voyage under her new flag.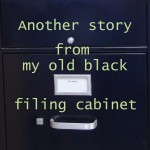 Maureen is exploring the contents of an old black filing cabinet in her attic, which contains 55 years of her writing notes and memorabilia.