Posts Tagged 'Benjamin Britten'
All a poet can do today is warn.
–Wilfred Owen
Cream plastic transistor radio close to my ear, I sat by the window of our London bedsitter, hearing familiar words set to brand new music: the premiere of Benjamin Britten's "War Requiem". The May 30, 1962 performance was part of a festival to mark the consecration of St Michaels Cathedral in Coventry, a new modern building set alongside the bombed-out ruins of the old.
 I had a personal interest in the cathedral, since one of my assignments for my New Zealand newspaper had been to interview the glass engraver John Hutton, one of the many eminent artists whose work graced the new building.
 I was also caught up in the prevailing excitement about the completion of this significant architectural and spiritual project. Contained within the walls of the new cathedral was the idea of reconciliation, that it would be a place that would, in the words of the cathedral website, play a part in
Healing the Wounds of History
Learning to Live with Difference and to Celebrate Diversity
Building a Culture of Peace
But mostly my interest was in the poetry of this new musical work. I had been introduced to the poems of Wilfred Owen in high school. A soldier who died on the battlefield in the last week of the first World War, he wrote searing indictments of that war's ravages. To me as a student, it was a revelation that poetry could be used to express such pain and anger.
 I already had some familiarity with Britten's music, but I was blown away by the "War Requiem", which interweaves Owen's poems with the traditional Latin of the requiem mass. I was brought to tears by Britten's handling of Owen's poem of reconciliation, "Strange Meeting," in the concluding section of the work. In the poem, Owen imagines two dead soldiers, one English, one German, who meet each other
Down some profound dull tunnel, long since scooped
Through granites which titanic wars had groined
 They share life stories:
                        Whatever hope is yours,
Was my life also; I went hunting wild
After the wildest beauty in the world
…
I mean the truth untold,
The pity of war, the pity war distilled
…
I am the enemy you killed, my friend.
 The poem ends with the line Let us sleep now … which Britten repeats and extends in a hypnotically murmuring lullaby.
 I have listen to the "War Requiem" many times since that memorable evening in London. It still brings me to tears.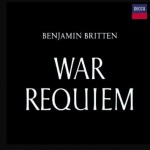 A 1963 audio CD of the War Requiem, featuring the soloists for whom it was written, Peter Pears, Dietrich Fischer-Dieskau, and Galina Vishnevskaya, is available on Amazon.
 The Poetry Foundation website has a good selection of Wilfred Owen's poems.