My father had a lifelong love affair with things mechanical. When he was in his seventies, I sat him down with a tape recorder. One of his memories was of passing through the Panama Canal. The year was 1920, six years after the canal was officially opened. Dad was eight years old, traveling from New Zealand with his parents and younger siblings to visit relatives back in England. He told me: "I was fascinated with these … I think they call them donkeys.  A locomotive type of thing that ran on a rack – rails and rack drive, and those things pulled the ship through from one lock to the other.  We had to climb up the steep climb at the end of the lock up to the next level or down."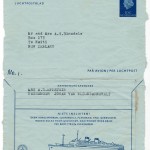 Standing at the rail of the "Johan von Oldenbarnevelt" in 1962, I shared Dad's enthusiasm. In a letter to parents I wrote: "I did not realise how exciting [going through the canal] would be. It is an incredible piece of engineering, and extremely efficiently run by the Americans. We got up on deck just as we arrived at the first lock, with Balboa still in the distance, so we really saw the whole trip. We were pulled through the canal by teams of little trains called mules, that ran on a cogged track. It only took ten minutes for the huge locks to fill and empty. It was more impressive too because several other ships were going through the other way at the same time – as we went down they went up, and vice versa. From the time we approached the canal we saw lots of big ships – a wonderful change after seeing nothing at all but sea across the Pacific."
Dad mentioned seeing an alligator on the bank of Lake Gatun. I did too. My letter continues: "Through the centre of the canal we go through a big artificial lake with dozens of islands covered with jungle. Saw at least two alligators, and many beautiful birds. We were served lunch up on deck so that we wouldn't miss anything – at the time we were going through the Gatun Locks, which is the biggest group – three locks together.
"The countryside changes very much through the canal. On the Panama side it is all lumpy hills, some of them quite high – the Gaillard cut goes through a fairly low part – about 250 ft. Then on the other side you descend to steamy swamps – now fortunately cleared of the mosquitos that ruined the first attempt at making a canal – the remains of the French project are still visible in parts. Even though this is the dry season, the jungle still looked hot and sticky – I would hate to be there in the wet season."
The ill-fated French attempt to build a canal began work in 1881, but ground to a halt in 1884 because of engineering problems and high mortality due to disease. The United States took over in 1904. A decade later, by far the largest American engineering project to date was completed, and the canal was officially opened in August 1914.
As the JVO slipped smoothly through the canal, I felt I was part of history, both of the canal itself and of my own family, as I followed my father's journey and shared his enthusiasm for those mechanical mules.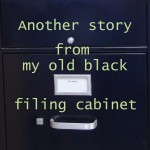 All photographs are by Tony Eppstein.
 Maureen is exploring the contents of an old black filing cabinet in her attic, which contains 55 years of her writing notes
6 Responses to "The Mechanical Mules of Panama"