Archive for the 'history' Category
In 1972, five years after I emigrated to the US clutching my hard-won Green Card, my official status was Resident Alien. I was required to register at the Post Office every January. If I wanted to leave the country, I had to prove that my income tax payments were up to date. I had to remain "of good moral character" and could be expelled if I had a run-in with the law. And I couldn't vote.
Meanwhile, opposition to US involvement in Viet Nam was heating up. A turning point for me was the May 1970 killing and wounding of students by members of the National Guard at Kent State University, where students were protesting the secret bombing of Cambodia. As a history major, I already understood why interference in another country's self-determination was bound to end badly.  It was obvious to me as an outsider that the Viet Nam War was a disaster. Yet here in this supposed Land of the Free, it seemed that the authorities were beating up people who said so.
If I couldn't publicly protest, and I couldn't vote, at least I could help behind the scenes. I became interested in the anti-war policies of presidential candidate George McGovern, and began to volunteer in his California primary campaign. Here's how I described my activities in a letter to parents: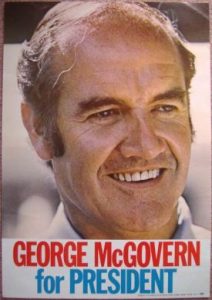 June 2, 1972
I have been sticking my neck out in other directions lately too – have become very involved in George McGovern's presidential campaign. I have put in some time at the campaign headquarters, and then got nailed to organise the local precinct. It is really rather fun, once I got over the initial panic. Support for him is very strong in this area, so I was lucky in the number of people I could con into working for me. Our house is going to be the headquarters for all 30 Cupertino precincts Tuesday (election day), so that should be interesting too. Am meeting all sorts of interesting people, especially the out-of-state students who are travelling around working for him. There are some neat kids amongst them.
McGovern won the nomination, but lost the November election to incumbent Richard Nixon. Meanwhile, I was feeling ambivalent about my own status. After five years in the US, a Resident Alien may commence the application process to become a citizen. Was I ready to do that? Could I turn my back on the land that had nurtured me and my ancestors? Could I pledge allegiance to a country whose foreign incursions I could not support? On the other hand, how badly did I want to share with my neighbors in making decisions about this place we all now called home? For most immigrants, this is a decision that requires careful thought and soul-searching. In the end, my husband and I decided to apply for citizenship. We didn't know then how many years, frustrations and phone-calls it would take. But that's another story.
In early 1972 I had a note from the women's editor of my New Zealand newspaper requesting pieces on how the women's liberation movement had changed the role of women in politics. "Surely," she said, "women over there do more than make tea for the candidates." My response was a two-part series.  First, the attitudes and roles of party workers in my county, now more widely known at Silicon Valley. In my next post, I'll share a profile of a woman political candidate.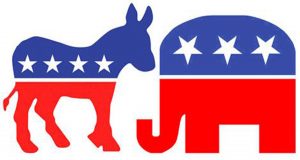 Women in Politics Part I:
Party workers reflect range of attitudes
Santa Clara County, CA, 1972
The grey-haired woman in the Republican campaign trailer sniffed contemptuously. "Women's lib! I don't hold with all that stuff." She is the wife of a retired army officer, and a veteran of political campaigns. Meanwhile, the Republican incumbent for her Assembly district is being challenged by a feminist woman Democrat, and in Southern California the Women's Division of the Democratic Party is seeking to abolish itself, on the grounds that a separate women's organization is sexist in conception.
These are the extremes in the spectrum of views on women's place in the world that the political party workers of Santa Clara County, CA reflect in their organization, their activities, and their attitudes.
Organization at the state level is set for both parties by the state code. Each legislator or party candidate has up to five nominees to the State Central Committee of his party, of whom at least two must be women. From this 1,000-strong body, a man and a woman for each Congressional District are chosen to form the decision-making executive committee.
"The women have a great deal of influence," says Loretta Riddle, field representative and campaign coordinator for State Senator A. Alquist, who has served on the executive committee for ten years. "It has been a very fair thing. If you have the ability, and work hard, you can make your voice heard."
The presence of a few women is customary, though not mandatory, on the elected County Central Committees. But at this level the loose structure imposed by the state gives way to local idiosyncrasies. The Democratic Party, though overwhelmingly the majority part of the county, admits to being fragmented and disorganized. The Republicans, on the other hand, pride themselves on their efficiently centralized hierarchy. Robert Walker, executive director of the Republican county headquarters, has the county committee divided into specialized sub-committees, and keeps close liaison with his party's many volunteer clubs.
In contrast to the 600 members that the Women's Division of the Democratic Party can muster, the thirteen chapters of Republican Women's Club in the county have a total of 3,000 members. Ten of the clubs run their own local campaign headquarters, registering voters and handing out literature for all the Republican candidates. They are also the labor force of the campaign. "Those women are fantastic," says Mr. Walker. "I can send them a 30,000-piece mailing and get it back the next day all ready to go."
The Democratic women have a project too: they run the county headquarters for the party. Madge Overhouse, its director, feels that she has a strong voice in the running of the party organization. "But it is simply by going ahead and doing something like this. Within the Democratic Party you can come up with an idea and follow it through."
"Individual effort" is an idea often expressed by Democratic women; "femininity" comes more often to the lips of Republicans. The northern chapter of the Democratic Women's Division, though less militantly feminist than its counterpart in Southern California, puts most of its fund-raising effort into the campaigns of women candidates. Ladies' club activities like luncheons or fashion shows, favorites of the Republican women, are not popular with Democrats. "We are more issue-oriented," says Madge Overhouse.
The advantage of clubs, thinks Robert Walker, is that they attract people who would not ordinarily be involved with the party. He described the Republican Party as "the party of the middle class. They tend to be socially oriented, and this carries over to their approach to doing political work. They want to gain some prestige out of it."
Joan Menagh was a founder of the Republican Women's Club in her neighborhood. While enjoying the social aspects, she stresses that education is its primary purpose. "Volunteerism" has been a popular topic for speakers. Traditional social values prevail. Though she has worked up to a seat on the County Central Committee, and a full-time job in the office of U.S. Congressman Ch. Gubser, Mrs Menagh claims to have no political ambitions. "In my life my husband and family come before any of my other activities."
Democrat Madge Overhouse is also critical of the more militant factions of her party. "We have to recognize that there are a good many women who are perfectly happy to be wives and mothers. The militants are cutting these women off, and I think it's too bad."
Nor for that matter will Loretta Riddle run for office, partly because she wants to stay close to her two teenagers, but mainly because her personality is satisfied with the considerable power she already wields behind the scenes. She does however admire women who have aspirations to high office, and is longing to see a woman in the California Senate. "I don't think men realize how much they need women in politics. Women have a certain sensitivity and perspective that men do not."
Both Republicans and Democrats see a trend toward more women in public office. "I think it goes back to this whole women's lib thing," says Republican Joan Menagh. "Women for many years didn't feel that running for public office was a particularly feminine thing to do, and voters in the past didn't feel that a woman could hold her own within the political arena as a candidate. Both ideas are passing."
Democrat Loretta Riddle agrees. "People have not yet learned to accept women who are forceful. But that doesn't mean they shouldn't go ahead, because then we may go along and start learning little by little."
The way is open for a woman to rise as high in politics as her ability, tenacity and sheer personal drive will allow. It is a difficult path though, and few are willing to take it. The vast majority of women in political campaigns will no doubt continue to stuff envelopes, sit at voter registration booths, check precinct lists, and make tea for the parched throats of campaign speakers.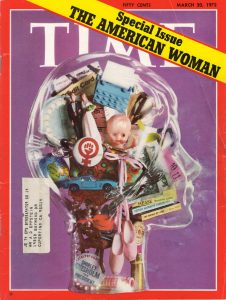 Tucked between two bulging folders in my old black filing cabinet, I find a yellowing treasure: the March 20, 1972  special issue of Time Magazine titled "The American Woman." Skimming its pages, I'm drawn back to my memories of the early 1970s, when I lived in Cupertino, CA. Oh yes, I think to myself, this is what it was like.
The issue starts, as usual, with letters to the editor. These are from female readers responding to the magazine's invitation to "write to us about their experiences and attitudes as women, and to tell us how their views on this subject have changed in recent years." I tabulate the responses. Twenty enthusiastic about the new feminism, three ambivalent, and six tending negative, arguing that, since very few higher level jobs are available to women, by going out to work they "trade the drudgery of housewifery for the drudgery of an office job." Or, as another writer put it: "Rush out each day to that exhilarating, high-paid position; rush home to that hot-cooked supper (cooked by whom?); relax in that nice clean living room (cleaned by whom?). Most likely, dearie, you'll hold down two jobs—'cause when you get home from that executive job in the sky, there ain't gonna be no unliberated woman left (and certainly no man) to do your grub work." Sidebars titled "Situation Report" in the various sections of the issue reflect these caveats: prejudice is rampant against allowing women into higher paid or managerial professions.
Time's editorial attempts to define "the New Feminism" as "… a state of mind that has raised serious questions about the way people live—about their families, homes, child rearing, jobs, governments and the nature of the sexes themselves. Or so it seems now. Some of those who have weathered the torrential fads of the last decade wonder if the New Woman's movement may not be merely another sociological entertainment that will subside presently."
Subsequent pages offer a history of the currents of social change that "have converged the make the New Feminism an idea whose time has come." There are portraits of a range of American women, a piece on "the organizations, aims, difficulties and range of opinions that help make up Women's Liberation in all its diverse forms," a one-page snapshot of attitudes in Red Oak, a small Iowa town. Here's a quote: "Many Red Oak women agree with Doctor's Wife Jane Smith: 'A woman's place is in the home taking care of her children. If a woman gets bored with the housework, there are plenty of organizations she can join.'" A photograph shows Mrs. Smith entertaining friends at bridge. I have a flash of memory: one of my sisters saying the same words to me.
The "Politics" section of the magazine showcases some familiar names: Bella Abzug, Shirley Chisholm, Martha Mitchell, and describes the bipartisan effort of the National Women's Political Caucus to get more women elected, or selected, as delegates to the Democratic and Republican National Conventions.
The "Science" section describes the difficulties a woman astronomer faced. As a woman Margaret Burbidge, who helped develop a new explanation of how elements are formed in the stars, "found that she could get precious observing time at Mount Wilson Observatory only if her husband [a physicist] applied for it and she pretended to act as his assistant." The Burbidges also ran into nepotism rules at the University of Chicago. "'The irony of such rules,' says Mrs. Burbidge, who had to settled for an unsalaried appointment while her husband was named a fully paid associate professor, 'is that they are always used against the wife.'" I think of women scientists I have known who suffered the same exclusion, such as Beatrice Tinsley, a British-born New Zealand astronomer and cosmologist whose research made fundamental contributions to the astronomical understanding of how galaxies evolve, grow and die. Beatrice had to divorce her husband, a Texas University professor, and move to Yale to gain the position she needed to do her work.
In many science fields, recognition for outstanding women is still abysmally low. I think of efforts by my son David, a mathematician, to redress the paucity of profiles of eminent women mathematicians in Wikipedia.
Section after section, the stories continue. "The Press" section is subtitled "Fight from Fluff," how women's pages are shifting to more general interest features. "Modern Living" talks about efforts to find new pronouns, the opening of day care centers, and changes in marriage dynamics. The Situation Report for the "Law" section puts the number of women lawyers in the U.S. at 9000, 2.8% of the total number of lawyers. Of this small number, "less than 12% of them were making more than $20,000, as compared to 50% of the men." Similarly depressing are statistics for recognition of women in the arts, in business, and in medicine. The "Behavior" section, which looks at research into sex-related differences in early childhood, seems to reinforce stereotypes: "Many researchers have found greater dependence and docility in very young girls, greater autonomy and activity in boys." The accompanying pictures show two babies behind a barrier set up to separate them from their mothers. The little girl cries helplessly; the boy struggles to get out.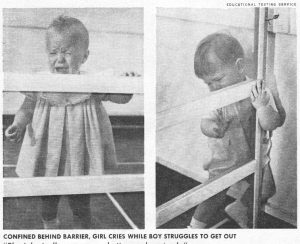 A keynote essay by Sue Kaufman, author of the novel Diary of a Mad Housewife, attempts to capture the feelings  of a composite American woman, interested in the new ideas, admiring of feminist leaders, but cautious about jumping on the bandwagon. Kaufman describes an imagined scene: an admired leader is coming to town to speak. The woman arranges for a babysitter. "She will go, usually with friends. They will arrive … take their seats—and slowly it will begin to happen … she begins to feel the flickers and currents of a mass communion, a rising sense of excitement that she imagines parallels what one feels at a revival meeting … this powerful thing happening, this sweeping, surging, gathering-up-momentum feeling of intense camaraderie, solidarity movement." After the meeting is over, Kaufman describes the woman driving home, paying the sitter, returning to the children and the kitchen "to take up the reins of her existence. Only—something is wrong. She is overwhelmed by a terrible sense of wrongness, of jarring inconsistency. There was that surging, powerful feeling in the hall, and now, stranded on the linoleum under the battery of fluorescent kitchen lights, there is this terrible sense of isolation, of walls closing in, of being trapped. …but she doesn't burst into tears. …In spite of the desolation she feels, she knows that she is not alone…there is enormous comfort in knowing that. And knowing that is one of the big changes in her life."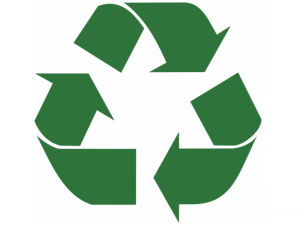 Rummaging through my old black filing cabinet, I came across an article I wrote in 1972 about recycling centers that was published in my Christchurch, New Zealand paper. These days, when everything recyclable gets dumped into the Blue Bin and carted away, I though it might be fun to read about the beginnings of the movement.
COME ON DOWN TO THE RECYCLING CENTER
Cupertino, CA
Spurred on by their ecology-minded kids, Californian families these days are loading up the station wagon at weekends with squashed cans, bottles, aluminum foil, and old newspapers, and heading for the local recycling depot.
The movement started a few years ago, when beer manufacturers discovered that they could earn bonus points in public relations by buying back and recycling the aluminum beer cans that had become an inevitable part of the landscape of the nation's beaches and parks. As concern for the environment became a national obsession, clean-up campaigns became a fashionable, and profitable, project for youth groups.
Then the kids started taking over the collection depots. Each summer, high school social studies departments set up their own recycling centers. Sometimes the logistics of getting students organized can be overwhelming. One summer the boxes and bottles piled up embarrassingly high in the parking lot of a local supermarket before the kids from the high school across the road got themselves coordinated. And last year student apathy on the prestigious Stanford University campus allowed the recyclable trash to spread like a slum over the elegant grounds.
But a well-run recycling center can be a pleasure to visit. A Los Altos youth group set up shop in the grounds of an abandoned school. Every weekend enthusiastic volunteers were there, sorting, packing, stacking. Cheerful hand-lettered signs directed customers to the right cardboard carton for each item, and warned about the broken glass on the ground. One member invented an ingenious wooden lever for pressing the cans as flat as can be, and this is always in use, though most families now bring the stuff in already sorted and squashed. "Doing your bit for ecology' has become an acceptable chore for children, and there is a therapeutic value in bashing cans nearly comparable to chopping firewood, back in the good old days before central heating and all-electric kitchens.
Some local government projects have fared less well. Neighboring Sunnyvale's municipal recycling center is a lonely outpost in the corner of the city dump, way down in the swamp beyond the aerospace plants and the defense installations. Not surprisingly, the center made a loss last year.
Cupertino has tried to get the best of both worlds. The local chapter of Jaycees, supported by the city, the college administration, and the students' Ecology Corps, has set up a recycling depot in a corner of the beautiful, and central, De Anza College grounds. It is less chaotic than the Los Altos center: a neat redwood fence surrounds the area, and the materials are contained in big steel skips. But there is still the sense of community involvement, the cheerful bustle on a Saturday morning, the satisfying clunk of bottles smashing into the skips. First quarter earnings showed a modest profit. The glass and aluminum are bought back by their respective manufacturers, and the tin and bi-metal go to a local producer of nursery pots.
Some recycling centers take newspaper, which is now reused for a variety of items, from dinner napkins to stationery. But the youth club paper drive, long a part of American life, takes care of most of this, and the big brown newspaper skip on the local school grounds is a familiar part of the landscape.
What about the future? Development suggestions have included a return to the regular garbage collection, with automatic sorters at the dumps to pick up reusable materials. The idea sounds more efficient, more appropriate to industrial America. But somehow it doesn't quite fit the new environmental consciousness, with its emphasis on individual effort. And it won't be nearly so much fun.
Then felt I like some watcher of the skies
When a new planet swims into his ken
—John Keats
A letter to my parents:
31 March 1970
…This morning we had another memorable experience: Tony got us up at 4:30 am to see Bennett's comet, which is visible in the east at this time. This is believed to be a new comet, and is an extraordinarily beautiful sight, with its huge tail trailing. Can you see it from New Zealand?
Since I was a child, learning from my father how to find due south from the Southern Cross and its Pointers, I have been fascinated by the night sky. In my homeland of New Zealand  I could point out some of the interesting phenomena: the Coalsack nebula, the Magellanic Clouds. An immigrant to the Northern Hemisphere I was still learning the northern sky.
In 1970 I was too busy with children and their needs to study more about the new comet. I've now learned that it is considered one of the greatest comets of the past century. It was discovered on Dec 28 ,1969 by an amateur astronomer, Jack Bennett, in Pretoria, South Africa. It seems we have a southern constellation in common. From his obituary I learned that Bennett, who died in 1990, "became interested in Astronomy when as a teenager, his mother used to point out to him the Southern Cross and the brightest stars and planets, in the evenings after church service, on their way back home."
The astrophotographer Daniel Verschatse notes on his website:
"For two decades, starting in the late 1960's, the southern sky was patrolled by a dedicated South African comet-hunter named Jack Bennett.  Using a 5-inch low-power refractor from his backyard he discovered two comets.  Jack also picked up a 9th magnitude supernova in NGC 5236 (M83), becoming the first person ever to visually discover a supernova since the invention of the telescope."
I also learned that Comet Bennett is estimated to have a period of 1700 years. So if it previously appeared in Earth's sky, it would have been in the third century, about the time that the Roman Emperor Constantine the Great was a baby. Britain was still under Roman rule. In my ancestral Ireland, Cormac mac Airt reigned as High King from his seat at Tara.
Comet Bennett's next perihelion, or point at which it is closest to our sun, is predicted to be the year 3600. Might it still exist by then, and might there be humans left to see it? Who knows?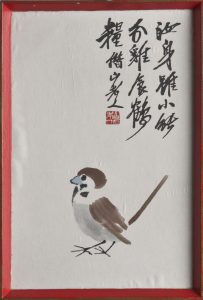 In the late 1950s, when my husband Tony was a student, he strolled into a junk shop in the small town of Hawera, New Zealand. A charming image of a sparrow caught his eye. Fast forward ten years. Tony was by then an engineer at a high tech company in Silicon Valley. The sparrow pops up again in a letter I write to parents:
14 April 1969
A friend of Tony's from Memorex came to dinner. A Korean boy … He is really charming, and we had a pleasant evening. One interesting thing that came out of it – Yun also reads and writes Mandarin Chinese, so was able to translate the inscription on our sparrow picture for us. Do you remember our sparrow? It is a little brush drawing that Tony picked up in a junk shop in Hawera when he was a student, shortly before reading in a magazine a story about a famous Chinese artist who was objecting to a government campaign to kill off the sparrows to improve the wheat production. He made these little posters, inscribed with sentimental stories about the sparrow. And this, as far as we can tell, is what we have got.
With the help of the Internet, I've been piecing together my fragments of knowledge about this period in Chinese history. What I discovered is a familiar story about well-intentioned interference with nature leading to ecological disaster.
In the First Five-Year Plan of the newly-founded People's Republic of China, families were each given their own plot of land. In the Second Five Year Plan, begun in 1958, a new agriculture system was announced. Family farms were grouped into collective farms, making each village a single production entity in which everyone would have an equal share. Food would be provided in a communal kitchen.
In theory, a collective farm where resources were centrally controlled should be more efficient and yield higher productivity. In practice, agricultural production figures fell. Food shortages were exacerbated by flood and drought. Believing that getting rid of sparrows, who ate grain, would improve production, Chairman Mao Zedong launched the Four Pests Campaign, which encouraged citizens to kill them, along with three other pests: rats, flies, and mosquitoes. Sparrow nests were destroyed, eggs were broken, and chicks were killed. Many sparrows died from exhaustion; citizens would bang pots and pans so that sparrows would not have the chance to rest on tree branches and would fall dead from the sky. Citizens also shot the birds down from the sky. These mass attacks pushed the sparrow population to near extinction.
In hindsight, the result was inevitable.  Too late, Chinese leaders realized that sparrows didn't only eat grain seeds. They also ate insects. With no birds to control them, insect populations boomed. Locusts, in particular, swarmed over the country, eating everything they could find, including crops intended for human food. People, on the other hand, quickly ran out of things to eat, and tens of millions starved.
In 1968, after nearly seven years abroad, my husband and I, along with our two young children, paid a return visit to New Zealand, our homeland. My letters to parents after that visit indicate that we felt unsettled and were exploring how we could return permanently. Unfortunately, I no longer have the letter in which my mother must have suggested we would have been better off if we hadn't left in the first place. But I do have my answer. Reading it again, I'm struck by how relevant my defense of the value of travel still is.
6 August 1968
A big question you asked, Mum, with a number of overtones. I think you really would have preferred your family to be more like [her sister's children], wouldn't you? I envy them too, in a way, settling down in the neighbourhood in which they were brought up, sharing common interests and activities with their parents and their local community.
It would have been simpler to have stayed at home. But the question is, whether you want a peaceful, comfortable life, or whether you need to know yourself. It does no harm to strip away a few illusions. The most important thing about travelling is that you quickly lose the complacent assurance that your own little set of values holds good for everybody. It is only by getting away from NZ that you can begin to see the country and its people in perspective, and it is only by being a foreigner in a different community that you can learn to be objective about social attitudes and customs.
I would be very sad not to have seen the things I have seen. It is not that our perceptions are dull in New Zealand, just that in many areas they cannot be awakened. All the art appreciation we had at school was poor second-hand stuff compared to our first sight of original Rembrandts in New York. History was unreal too, until we walked through the streets of London, or found, in the crypt of a Mediaeval abbey, a Saxon chapel built of masonry filched from Roman ruins. Childhood fairy stories had little meaning until I saw castles and village greens, and crooked pink cottages with overhanging thatch and winding sprays of apple blossom and ducks on a pond.
Of course there are difficulties, one being that it is very easy to finish up with a splendid pile of memories, and no homeland. But on the other hand, I now have a better idea of what sort of person I am, and this to me is more important.
I grew up in a country with strict gun control laws. In New Zealand in the 1940s and '50s, you needed a permit and a "proper and sufficient purpose" to acquire a firearm, and all weapons had to be licensed and registered. Automatic pistols were outlawed altogether. My dad kept a rifle in a locked closet, taking it out occasionally to go hunting for feral pigs with his friends. But guns were not part of my small town landscape. Even today, New Zealand police officers do not routinely carry firearms.
Imagine my state of mind then, when the newspapers of my newly adopted country ran daily news stories about firearm-related deaths. Looking back now at government statistics, I see that in 1968 the US, with a population of 200.7 million, had about 31,400 firearm deaths. (Since the Center for Disease Control bundled multiple years 1968-1980, this is an average.) CDC, in a 1994 report, predicted that people killed by firearms would by 2003 outnumber vehicle crash-related deaths. Louis Jacobson, in a PunditFact article, verifies Nicholas Kristof's 2015 statement that "More Americans have died from guns in the United States since 1968 than on battlefields of all the wars in American history."
On April 4, 1968, our family had been in the US less than a year. My husband Tony was in Washington, DC for an international magnetics conference. On March 30 I wrote to my parents: He is very excited about this, especially as he hopes to meet some of his friends from England who are expected there.
 About a week later I wrote again:
10 April 1968
Tony also got involved last week in America's other big trauma – the race riots following Dr. King's assassination. He had great difficulty getting out of Washington on Friday [April 5], but fortunately the flight crew of his plane had the same problem, so managed to catch his correct flight a couple of hours late. I gather that the conference was very successful and useful, if somewhat exhausting.
Reading these words again today, I notice the calm, distancing tone. I couldn't tell my parents that I was terrified. Tony had described to me the view from the night sky: cities in flames all across America.
Two months later, on June 5, 1968, presidential candidate Robert F. Kennedy was fatally shot at the Ambassador Hotel in Los Angeles, shortly after winning the California presidential primaries in the 1968 election.
Yet more public and political mayhem was to come. In August we endured reports of the violent clashes between police and protesters at the 1968 Democratic National Convention in Chicago. In its report Rights in Conflict (better known as the Walker Report), the Chicago Study Team that investigated the incident stated that the police response was characterized by:
…unrestrained and indiscriminate police violence on many occasions, particularly at night. That violence was made all the more shocking by the fact that it was often inflicted upon persons who had broken no law, disobeyed no order, made no threat. These included peaceful demonstrators, onlookers, and large numbers of residents who were simply passing through, or happened to live in, the areas where confrontations were occurring.
I have to agree with Haynes Johnson, a Pulitzer Prize-winning reporter who was covering the convention. He wrote in a 2013 Smithsonian Magazine story that the convention was
…a lacerating event, a distillation of a year of heartbreak, assassinations, riots and a breakdown in law and order that made it seem as if the country were coming apart.
San Francisco, 1967. Sunday afternoon at Maritime Park. About twenty young black men sit on a low sea wall, bongo drums between their knees, thrumming an intoxicating rhythm. A crowd has gathered. Picnicking on the beach, my husband, children and I listen too, enthralled by the joyous sound. We have spent the morning exploring the old ships at the Hyde Street pier. Later in the day we explore the new tourist attraction of Ghiradelli Square.
In a letter to parents I wrote:  … an old chocolate factory now converted into an arty plaza and shopping centre with fountains, outdoor restaurants, etc. … One of the most interesting places was the Children's Art Centre – just a little gallery for exhibitions of children's paintings, and free paper and crayons for any infant who felt like drifting in and drawing a bit.
New to California, we had heard of the hippies in the Haight/Ashbury district, so on our way home to Cupertino we detoured along Haight Street. Sure enough, we passed storefronts with funky signage, long-skirted young women with hair held by braided headbands,  long-haired and bearded young men in tie-dyed tee-shirts, a group playing music on a corner. Like travelers viewing exotic fauna, we gawked and drove on.
It is only now, looking back, I realize how little we understood of what we were seeing. The flower children who poured into San Francisco in what is now known as the Summer of Love were an eclectic group, revolutionary in their rejection of consumerist values, opposition to the Vietnam war, and embrace of free love, drugs, art and music. But this counterculture had a historical context, and this as immigrants we did not possess. I remember where I was when I learned in 1963 that President Kennedy had been assassinated. Like my English neighbors, I was shocked. But I did not experience that communal sharing of grief my American contemporaries remember. On British television I saw newsreel images of civil rights marchers being attacked by snarling dogs, fire hoses, and baton-wielding cops. But that was in some barbaric, far-off country. From the BBC news reports about Vietnam, it was obvious that American military involvement was a disaster, bound to fail as the French had before them. I'd not yet grasped the deadly impact of the draft on young American men.
Over the decades that followed our first summer in the US, I gradually filled in my knowledge gaps, mainly through snippets of personal information: a teacher who dodged the draft by moving to Canada, a veteran who came back from the war physically and psychologically maimed, a man who as a student registered voters in the Mississippi Freedom Summer of 1964, a doctor and his poet wife who were cast out of their New England village because of their opposition to the Vietnam war. I took part in fair housing studies, and learned first-hand the effects of racism. I read histories of the period. But there has always been for me a sense of distance, a sense of being an outsider when my contemporaries discuss the experiences of their youth. I believe this sense of distance is true of all immigrants who come to this country as adults. Try as we might to 'become Americans,' we simply cannot share in the memory of those collective experiences that have shaped the early lives of our American-born neighbors and friends.
However, it has been fifty years since our arrival as new immigrants, since that summer of 1967. Over the years, new national crises and issues have unfolded. We have reacted to them, talked about them with friends, shared in community actions. We learned to belong. We too have finally become part of the American story.
Golden fruit clings to leafy branches. Golden-skinned men climb orchard ladders, old metal harvesting pails in hand. Close to the road, a huge billboard: FOR SALE FOR COMMERCIAL DEVELOPMENT. The scene has stayed in my mind, my first introduction to the landscape of my new home.
I moved, with husband and children, to Cupertino, in Santa Clara County, California, in late May of 1967, just as the apricot harvest was beginning. Between our  apartment, off N. Blaney Ave. by Interstate 280, and the nearest food market, on Stevens Creek Blvd., was a mile of apricot orchards. In other directions were acres of cherries, almonds and prunes. The Santa Clara Valley, a fertile alluvial plain, was until the 1960s the largest fruit production and packing region in the world. The beauty of all that spring blossom gave rise to the nickname "Valley of Heart's Delight."
The post-World War II economic boom and the rise of high-tech industry changed all that. My husband and I were part of a flood of new arrivals that forced out the fruit farmers and replaced orchards with tract houses, shopping centers, and business parks. It was a bittersweet time. On the one hand the energy and excitement of the new technological advances, the sense of living where the future started. On the other, sadness at the destruction of all those beautiful trees. Among my old notes I found a few lines of a poem I wrote in those early years:
The field is bare now where the orchard stood.
Apartment builders hammer at its brink.
How soon do we evict the meadowlarks
that saunter golden in the rainy dusk,
foraging through weeds by the highway's edge?
In recent decades, with the growth of the environmental movement, there grew a collective sense that something important was being lost. Efforts were made to preserve at least the memory of that fruitful landscape. In 1994, the City of Sunnyvale preserved ten acres of Blenheim apricot trees "to celebrate the important contribution of orchards to the early development of the local economy" and created an interpretive museum beside it.
The Olson family, whose 100-acre cherry orchard was one of the last vestiges of cherry farming in the area, still retains a few acres of trees and the roadside fruit stand that began in 1899. Owner Deborah Olson commented: "We try to educate people just moving in to the area, who don't know what it's all about. They get a sense of place, about how it began here, and they kind of feel a part of the community."
Blogger Lisa Prince Newman, whose family also moved to the valley in the 1960s, is collecting stories, pictures and apricot recipes from the few farming families still in the valley.
The chorus of Joni Mitchell's song "Big Yellow Taxi," written in the late 1960s, sums up the sense of profound loss:
Don't it always seem to go
That you don't know what you've got
Till it's gone
They paved paradise
And put up a parking lot
 Hear Joni sing "Big Yellow Taxi"