I still ponder why it meant so much, that Christmas morning in England in the 1960s, that a robin sat on the back fence. The field behind the fence was white, the fence wires thick with hoar frost, and the little red-breasted bird made the scene perfect. Finally, I told myself, a 'real' Christmas.
I have tried for many years to clarify my feelings about the disconnect between the traditional trappings of the season and my experience of growing up in New Zealand, where the seasons are reversed. My childhood Christmas memories are of summer: the tree laden with oranges in my grandmother's garden where we hung our presents and picnicked on the lawn; the scent of magnolia blossom outside the church on Christmas Eve.
Also the Christmas cards with their images of snow (which I'd never experienced) and yes, the English robin. I knew about robin redbreast from the old nursery rhyme, but until that Christmas I hadn't seen one.
Now on the coast of Northern California, I have a different understanding of how to celebrate the winter season. Our multicultural society recognizes many winter festival stories and traditions: the birth of Jesus in a stable, the menorah candles of Hannukah, the Swedish light-bringer St. Lucia, the gift-bringer St. Nicholas (known also as Santa Claus), and many others. The celebration that holds the deepest meaning for me now is Winter Solstice, the return of the light. From summer to winter, I note where on the horizon the sun sets, and how the darkness grows. Even as clouds gather, the place where sun disappears into ocean fogbank moves steadily to the south. When the prevailing westerly wind shifts to the southeast, I know to expect the winter rains. Sometimes a shower or two, sometimes, such as this past week, a prolonged deluge that floods rivers, downs power lines, and closes roads.
Meanwhile, the earliest spring flowers are breaking bud, and over-wintering birds gather hungrily at my feeder: Steller's jay, spotted towhee, hermit thrush, acorn woodpecker, hordes of white-crowned sparrows. I love them dearly. I am happy that I have learned to understand the connection between the flow of seasons and human efforts to explain them with stories and festivals. And I still have a place in my heart for the memory of that cheery robin redbreast who brightened an English winter.
What I loved about living in England as a young woman in the 1960s was the traditions around the holiday season. On foggy street corners in London, vendors with portable braziers sold roasted chestnuts, hot in the hand, but so good. Butchers' shop windows would fill with huge hams, neighbors' kitchens be redolent with the aroma of figgy puddings steaming on stove tops. I would pull down the English recipe book my mother-in-law had given me and assemble ingredients for my Christmas cake: an assortment of dried and candied fruit, spices, juice, eggs, butter, brown sugar, treacle, flour, and the all-important dash of rum.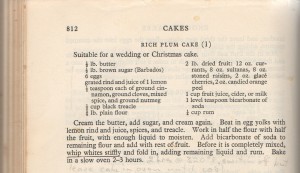 Making a proper English fruitcake is a multi-day affair. First, the careful preparation of the tin and timing of the baking so that it doesn't go dry. My Constance Spry Cookery Book devotes several pages to these matters. Then the making of the cake itself. Several days later, in preparation for icing, the cake is brushed with a warm apricot glaze. My cookbook declares:
The object of this protective coating is to avoid any crumb getting into the icing and also to prevent the cake absorbing moisture from the icing and so rendering it dull.
Next comes the layer of almond paste or marzipan, rolled out like pastry and smoothed on with the palm of the hand. A day or three later comes the smooth base coat of royal icing, made by mixing egg whites and lemon juice with the sugar. When this layer is perfectly stiff and hard the decoration is piped on.
When we moved to California, I continued to make Christmas cake for a few years, until I realized that fruitcake in America is the butt of seasonal jokes and that my lovingly prepared cake sat in the pantry scarcely touched. I am grateful that until his death a few years ago, my late brother-in-law Derek Heckler, who lived not far away, continued to bake and share a splendid traditional cake.
As earth and sun roll toward another pausing time, let us remember dear friends and family members now gone, and reach out in love to those still with us. However you celebrate the season, may it be filled with the traditions you hold dear.
My old black filing cabinet has yielded a treasure: the carbon copy of a 1960s letter to a newspaper editor. Reading it again, I'm struck by how much it reveals about my homesickness for the more casual lifestyle of New Zealand and my resentment of the strictures of English custom. I was reminded of these differences when my sister Alison, who lives on a beach north of Auckland, posted on Facebook a photo of her gathered family, and American friends of the family joked about the lack of shoes. Here's the 1964 letter:
The Women's Editor
The Guardian
Manchester
 Dear Madam,
As a fellow colonial I share [Guardian feature writer] Geoffrey Moorhouse's feelings about English clothing habits. The conformity begins at an early age. This summer my one-year-old toddler and I have been subjected to cold stares and even sarcastic comments from total strangers. The cause is his shoe-less feet. I am obviously considered a poor mother, for not providing leather for his feet, and looking round, I noticed that even during the hottest days, while my infant sat comfortable in only napkin and sunhat, most of his contemporaries were firmly laced into heavy shoes, and many were even inflicted with neatly buttoned shirt and tie.
I am not against shoes on principle. Now that the weather is turning cold, my son wears shoes and socks with his long trousers. But I do object to this pressure to dress young children according to society's idea of respectability, disregarding the dictates of the weather.  
I don't go barefoot in Mendocino. It's cold here, and there's burr clover and native blackberry underfoot. But sometimes I miss those carefree New Zealand summers of my youth.
Whenever I see old blackberry canes, dark red as the stain of their summer juice, I remember blackberrying in England when my son was small, and a dark red guilt sweeps over me. I described our expedition in a letter to parents:
8 Oct 1965
We went blackberrying on St. Ann's Hill, not far from here. Got a lovely lot—have been busy making jelly, pies, etc. David had a wonderful time—it was so sweet to see the solemn single-mindedness with which he set about collecting his berries—and he didn't eat a single one until Tony offered him a handful—to comfort him when he tumbled down a slope into a patch of brambles.
Modern American parents would probably be horrified at how lackadaisical we young mothers in England were about supervising our children's play. Once the daddies were gone to work, our little close of twenty-eight row houses was almost completely free of traffic. The kids, twenty of them under school age, ran in and out of each others' houses and romped together across the grassy front yards.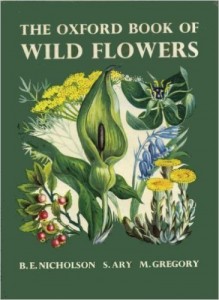 The Monday after our blackberrying expedition, I went out to gather up two-year-old David for lunch. I found him and his little friend  in a still-rough corner between the housing blocks. His mouth was stained red. "I picking blackberries, Mummy," he announced cheerfully. I took one look at the berry-laden plant, then rushed back to the house. My Oxford Book of Wild Flowers confirmed my guess: Deadly Nightshade.
While Tony, who had come home from work for lunch, went to tell the mother of the other child what had happened, I tried everything I knew of to make our baby throw up. Nothing worked. We called an ambulance. Since I was within a week or two of giving birth to our second child, a neighbor, seeing the ambulance, came over to wish us well. I am still grateful that when she learned the story, she called the police, and still guilty it hadn't occurred to me that other children might be involved. Some days later I wrote to parents:
13 Oct. 1965
The police organised all the rest of the kids in the close whose parents couldn't prove they were somewhere else that morning into another convoy of ambulances for a mass stomach pumping session. About a dozen altogether involved, of which four (including David) were confirmed cases, though they decided to keep the whole lot overnight for observation, just in case.
Meanwhile the newspapers had got hold of the story. We refused to see them at the hospital, but when we got home about 7:00—completely exhausted, & having had nothing to eat since breakfast—we were invaded by a posse of reporters. A highly garbled & exaggerated account appeared the next day. I suppose it's not every day one makes the front page of the Daily Mail, the Daily Mirror, & the BBC News, but I shouldn't care for the honour to happen again.
Anyway, the story ended well—all the kids were discharged the next morning, with none but the hospital staff any the worse for wear—in fact the sister-in-charge of the children's ward where the confirmed cases were confessed that she hadn't known that four such tiny boys could get so involved in riots and punch-ups all up and down the ward, and they were very pleased to see the back of them.
The visiting baby, almost two years old, sat alone and silent by the ribbed glass door of our row house in Egham, on the outskirts of London. He paid no attention to our chatty, energetic infant of the same age, nor even to his parents. Instead, he ran his tiny fingers obsessively over the ribs of the glass. Watching him as I fixed tea for our guests, I was uneasy.
A letter to my parents dated 20 April 1965 says nothing of this unease. Instead:
We had visitors on Sunday – Steve & Derek Shirley & their little Giles, who is the same age as David. We hadn't seen them for quite a while, & had a very pleasant day.
That was the last time we saw the Shirleys. Recently I have been reading Dame Stephanie (Steve) Shirley's memoir Let IT Go, to try to understand what happened to our year-long friendship. The answer is devastating.
In early 1964 I had interviewed Steve by phone for an article that ran in the Guardian about women programmers and her new business Freelance Programmers.  A few months later I gushed to parents:
30 April 1964
A couple of weeks ago we went to visit a very pleasant couple – the woman I interviewed (over the telephone) for my article on computer programmers. She has a baby the same age as David, and also works at home making up programmes – that is, the detailed instructions to be fed into a computer to do a required job. Anyway, we liked each other very much even over the phone, and she invited us to a meal to meet properly. They have a marvellous little stone cottage up in the Chilterns, right out in the country, with apple trees and daffodils, low oak beams, a huge log fire, and a grand piano squeezed into the front parlour. It sounds like a setting from a romantic novel, and that was the feeling even when we were there, that everything matched so well that it couldn't be quite real. And a remarkable affinity too, between us as people. A bond to start with of course  — it was the interest of her story that got me a place in the Guardian, and she credits me with the terrific boost to her business – she now has 20 other home-bound women working for her, and is forming herself into a limited company, and with giving her the confidence to get started. Then Derek is also a physicist [like Tony], reserved, very musical, and Steve and I found that our feelings and ideas agreed on all sorts of points.
At that time Giles and our David were eleven months old. Steve writes in her memoir:
The catastrophe had crept up on us. It must have been in early 1964—when he was about eight months old—that we first began to worry, on and off, that perhaps Giles was a bit slow in his development: not physically, but in his behaviour. He was slow to crawl, slow to walk, slow to talk; he seemed almost reluctant to engage with the world around him. These concerns took time to crystallise—as such concerns generally do—and the first time I went to a doctor about them I couldn't even admit to myself what was worrying me. …
My letters for the rest of 1964 are full of references to our new friends: visits back and forth, parties, conversations. In June I wrote: We liked them even more, if possible …  isn't it strange how people sometimes just click.
Meanwhile, Steve writes:
By the end of that year, however, there was no avoiding the observation that Giles was losing skills he had already learnt. … [He] had never become chatty. And now he fell silent. …
Months of desperate anxiety followed, in which there seemed to be little that we could do except fret. …
My lovely placid baby became a wild and unmanageable toddler who screamed all the time and appeared not to understand (or even to wish to understand) anything that was said to him…
By mid-1965 Giles had taken up weekly residence at The Park [the children's diagnostic psychiatric hospital in Oxford] while the doctors there tried to work out what was wrong. Nothing I can write can capture the enormity of the sorrow that that short sentence now brings flooding back to me. …
Finally, in mid-1966, the specialists overseeing Giles's case [at Great Ormond Street Hospital for Children] delivered the devastating but unarguable verdict: our son was profoundly autistic, and would never be able to lead a normal life.
I understand now that our friendship with the Shirleys could not survive. Being with us would have been painful for them. There was too much unspoken, too much contrast between their child and ours. For a short time, we loved them. Even now, a sadness returns.
Postscript
Derek and Steve spent the rest of Giles's short life seeking appropriate and supportive care for him. (He died at age 35.) Steve's business flourished. She has poured her considerable wealth into philanthropy, primarily to support "projects with strategic impact in the field of autism spectrum disorders."
Dame Stephanie Shirley: Let IT Go, Andrews UK Ltd., 2012
A magazine clipping tumbles from a November 1964 letter from England to my parents. It's the picture of a dinner service I won in a menu-planning competition. Looking at the geometric pattern on the dishes, I realize that the way we furnished the row house we bought that year has many elements of what is now recognized as a distinctive 1960s aesthetic: bold shapes and strong colors.
Having limited funds, Tony and I refurbished or made many pieces of furniture. The dining table he made was a heavy white plastic-veneered slab with straight, varnished wood legs. He built, and I upholstered, a sofa and side chairs with squared-off, simple lines, a copy of a set we particularly liked, but whose price was prohibitive. I made all the curtains from fabric purchased at Heal's of London, the store that carried the trendiest of household furnishings. I wrote:
8 August 1964
The sitting room curtains are quite magnificent – deep orange flame colour, with a pattern called "Armada," the formalised ships' hulls giving the impression of a dark horizontal stripe.
A shag (another 1960s design element) area rug that matched the curtain's colors helped warm up the coldness of the room. After battling the developer over the house's color scheme, we had compromised on gray vinyl tile floor and plain white walls. In the kitchen and dining area, we covered the white with a geometric wallpaper. A photograph reveals more geometrics: the gray and white kitchen curtains, the cups and saucers on the counter.
We still have one platter from that dinner service I won. A few other items, mainly metal, have survived the years. A pewter jug purchased on board ship during our emigration from New Zealand to England still sits on our kitchen windowsill. To the right of the dinner service picture, behind a porcupine of cheese chunks on skewers, are familiar objects: salt and pepper shakers just like the ones we still use every day. I guess we, like these furnishings, can all be labeled "vintage."
In 1964 my husband Tony came into an inheritance, enough to put a down-payment on a small row house in a village on the outskirts of London. From first placing a ₤50 holding payment on a partially-built structure to actually moving in took seven months. Today, with the purchase, remodeling and/or building of four subsequent houses behind me, I read my letters to parents from that period with wry sympathy, thinking how universal is the impatience of a young couple buying their first house.
The first letter in the series has a page or more of excited detail.
11 May 1964
… though still with the nagging doubt that it is all too perfect, that something is sure to go wrong. Points in favor: a brand new house within our price range (rare), architect-designed with imagination (also rare), less than a mile from Tony's job, practically in the country with a charming view over open fields to woodland, closer to London (20 minutes by fast train to Waterloo) and won't be finished for three months by which time we should have the means to pay for it…. Small, of course, but with ingenious use of space and attractive layout …
When I was growing up, my mother filled binder after binder with house design ideas and plans. We (my parents, three children, and succession of boarders – aunts, uncles, and family friends, often two at a time) lived in a rental Craftsman bungalow built about 1910: two bedrooms and a sleeping porch accessible only through the parents' bedroom and through a laundry room in which a toilet was installed late in our tenure. (Before that, we used the outhouse back in the yard.) Mum eventually built her dream house when I was about thirteen. In the meantime, I learned a lot about building design and became very familiar with architectural drawing and its symbols. I drew her a sketch:
After a month of marking time, and a thickening correspondence file, a tirade about a building society (English equivalent of a mortgage company) to whom we had applied:
8 June 1964
… the building society wouldn't consider our house for a mortgage because it was too contemporary in design – they stick doggedly to the deadly dull conventional things. We saw one the other day, part of an estate quite near here – good solid brick, appallingly bad planning, and claustrophobically tiny windows. Mortgages no bother.
A month later, good news on the offer of a loan from another building society. However, letters for the next several weeks report a battle with the developer:
30 July 1964
… One of the hazards of a speculative development – they are very reluctant to depart from the standard model, which in this case is decidedly murky – masses of dark grays, black, browns & blues. I'm getting a bit fed-up – sick of looking at samples & doing sums – I want some action round the place.
8 August 1964
… ran into trouble over the alterations we wanted to the colour scheme – we were met with a blunt 'take-it-or-leave-it.' However, eventually Tony rang up & told them they were a lot of bloody-minded so & so's, & managed to get the most important concession – the colour of the tiles on the floor. The rest of the detailing we shall probably have to rip out & replace as we can afford it. Infuriating, but the housing situation being what it is, we daren't tell them to go to hell.
Inevitably, construction delays kept postponing the finish date for the house:
26 Sept. 1964
We went up to London on Tuesday to sign the lease & mortgage documents for the house. Exciting, but still somewhat unreal. I am ceasing to believe in the existence of the house, and find it rather unsettling to go over every other weekend or so & find they have done a tiny bit. Still no idea when we can shift in – it will probably be weeks yet.
8 December 1964
It is still hard to believe that we have actually moved in. Up to 9:15 on Friday morning, with the carrier already piling boxes into the van, we still didn't know if we could – it all depended on the cheque from the building society being in our solicitor's post. A strange, unreal situation to live through. However, talking to some of the other people who have moved in, they seem to have had much more trouble than us, so we must be thankful.
Anyway, in all the chaos of cancellations, postponements, etc., it was too much trouble to cancel our housewarming party, so we held it as planned on Saturday night. The earliest arrivals were detailed off to put up curtain rails, shift packing cases from the middle to the sides of rooms, etc. Quite a successful party, I think. About a dozen people (& kids) stayed overnight, dossing down wherever for what was left of the night – we got to bed about 4 am, & a few more people dropped in for brunch the next morning. Needless to say by today we are both pretty worn out, but the house is more or less habitable. Strange what an effort, both physical & mental, to make a shell filled with boxes into a habitable room.
This story starts with a ceramic pot. But which one? Maybe the Lowerdown Pottery bowl I've treasured for over fifty years. Or maybe the piece that first inspired Bernard Leach, who is recognized  as the "father of British studio pottery," to take up the craft when he was invited in 1911 to a raku tea party in Japan. The story involves three generations of eminent potters: Bernard Leach, his son David Leach, and his grandson Simon Leach.
In June of 1964, Tony and I went on a vacation with friends to a village in Cornwall where we rented a house. In a letter to parents I wrote:
Yesterday we had quite a big trip – to St. Ives & Lands End. …Arrived at St. Ives in time for lunch – fish & chips in a restaurant overlooking the harbour, watching the tide racing in across the sands. After lunch [our friends]  sat on the beach while we explored – delightful little town, all higgildy-piggildy. …On the way out of the town we called at Bernard Leach's studio… One of the greatest of modern potters.
At the studio we learned that Leach's son David, who had for many years worked at and managed the St. Ives studio, now had his own pottery at Bovey Tracey in Devon, which happened to be on the back roads route the British Automobile Association had mapped out for us. As we descended from Dartmoor on our way home, there it was: Lowerdown Pottery. David Leach himself greeted us as, children firmly by the hand, we looked around. Although I had very little spare cash, I indulged and bought a pot.
Fast forward forty-nine years. At the urging of our family, Tony and I are trying to  putting our affairs in order. We decide to start by making an inventory of our treasures. He photographs, I catalog. We come to the Lowerdown pot. Is it by David Leach or by one of his assistants or students? Its form has affinities with the work of Bernard's friend Shoji Hamada, who is regarded as one of the most influential masters of studio pottery, and under whose tutelage David first learned the art.
By now David Leach has died, but I discover that his son Simon has also become an eminent potter. I find an email address on his website and write to him:
Dear Simon Leach,
About 1964 I visited Lowerdown Pottery and purchased a bowl from your father David Leach that has been a treasured possession ever since. I'm now trying to put my affairs in order for my heirs and am having a little difficulty finding a valuation for this piece — it seems most of his work is now in private collections or museums. It's stoneware, 5.25 inches in diameter on a narrow foot with his impressed mark on the base. Here's a picture. If you could give me an estimate of what it's worth, or where I might turn for this information, I'd be most grateful.
Within a day I receive a gracious reply:
3/5/2013
Hi Maureen
Please send me an image of the seal on the base – clear and in focus also of the other side of the piece.
I will give you an approximate worth if I can.
Best Simon
With the requested images in hand, Simon again responded immediately:
3/6/2013
Hi Maureen
Having seen the seal I see that it is an L+ which means it was made at Lowerdown Pottery.
My father's work had an Ld to the base. This means that it was not made by him personally…but by an apprentice or other potter there at the time.
Lowerdown pieces with an L+ are of course more plentiful than ones with the Ld so it's value is somewhat less I would estimate.
I would say it's value approximately would be in the range 80-100 pounds sterling.
If it had an Ld you might be looking at 250-300 pounds for such a piece.
That is the best I can do for you.
Best Simon
Not only did I have the documented valuation I needed for our inventory. I also had the pleasure of renewing a connection with this family of great British potters.
Even today, the Royal Shakespeare Company's 1962-64 run of King Lear, directed by Peter Brook, is considered by the company's actors the finest performance they have ever put on, and Paul Scofield's role as Lear one of the greatest ever performances of this challenging role. I count myself incredibly lucky to have seen it. Tickets were in such high demand that the theater ran a lottery. Friends scored three of the precious cardboard chits in February 1964 and invited me to join them. Leaving the baby at home with my husband, I eagerly boarded the London train.
I had studied Lear in high school, but it was in the context of cramming for a national scholarship exam. The wild language of the storm scene as Lear descends into madness thrilled me, but I was more concerned with how I would write an essay about "objective correlative," the idea that the storm as an outward happening can correspond to an inward experience and evoke this experience in the reader. Even so, the play's themes resonated.  At a sheltered seventeen, I knew little about sexual jealousy—married sisters fighting to the death over the attentions of a lover. But I knew about families, that instinctive knowledge about which of their offspring a parent loves the most, and competition for approval from the father.
The plot of Lear interweaves stories of two dysfunctional families: King Lear and his three daughters, the Earl of Gloucester and his two sons. A man prone to towering rages, Lear banishes a devoted daughter who has refused to express her love for him in the flowery language her sisters have used. Lear divides his kingdom between the two remaining daughters, Regan and Goneril, proposing to divide his days between them. Once in power, the daughters try to control him and his retinue. Furious, Lear takes to the outdoors where, in a raging storm, he descends into madness, accompanied by his fool and, in the guise of a madman, Edgar, the elder son of Gloucester, who has been framed by his younger brother Edmund. Meanwhile, Edmund is paying court to both Regan and Goneril. In the end all the principal characters are dead, except for two of the good guys, Edgar of Gloucester and the Duke of Albany, Goneril's husband. Albany closes the play:
The weight of this sad time we must obey;
Speak what we feel, not what we ought to say.
The oldest hath borne most: we that are young
Shall never see so much, nor live so long.
Paul Scofield was breathtaking as Lear. On the Shakespeare Blog I found quotes from reviews of the time:
Scofield's gravelly voice found its perfect setting in the harshness of Brook's King Lear. The Daily Telegraph review of the stage production commented on his "unsentimental, awesome, rasping delivery" and the depiction of a "society only one degree removed from savagery". The Times commented on his "grating low tones, the powerful air of authority".
I missed the last train back home to Windsor. Curled up with a blanket on my friends' couch, I could not sleep. I watched the glowing embers of their hearth fire fade to black as I replayed over and over the intense emotions of this great performance.
Back in the day when computer programming as a profession was so new it lacked a gender bias and could well have become a female specialty, I wrote an article about a woman programmer which helped launch a successful freelance business staffed almost entirely by stay-at-home mothers. For me too, it was a big breakthrough: the story was published by the Guardian newspaper on 31 Jan. 1964 under the headline "Computers provide new jobs for women."
I first met Stephanie (Steve) Shirley in 1963, when our same-age babies were tiny. We had a pleasant chat about what intellectually stimulating work programming was. Frustrated with the sexism that prevailed in the world of employment, Steve had left her job with  Computer Developments, Ltd., to start her own company, Freelance Programmers. Her workload was growing as new clients learned of her services, and she was starting to reach out to other former programmers for help.
In a letter to parents a week after the article was published, I wrote:
… My article was published  in the Guardian, and since then I have had a flood of letters. Mainly for forwarding to the woman mentioned in it, a computer programmer, retired with a baby the same age as ours, who is trying to get other women like herself to join her in working on a free lance basis.
Less than a year after my first article, the Guardian published my follow-up. Freelance Programming Ltd. was launched. Over time it grew to 8,000 employees, and Dame Stephanie Shirley is now recognized as a pioneer of the British information technology industry. Here's the follow-up article:
Computer women
In January of this year Mrs Steve Shirley was working quietly at home making up computer programmes in between caring for her baby and doing her housework. Now she has found herself the head of a company employing upward of twenty retired, home-bound programmers like herself. Like many businesses, it started in a very small way. When she retired from her job as a programmer with a big computer company, she was offered a few programming projects to keep her occupied at home. She could work at them in a leisurely fashion, enjoying the contrast between the stark, modern, technical world of computers and the idyllic charm of her cottage in the Chilterns. In this way she found a mental satisfaction that had not been fully achieved in caring for her home and family.
As her circle of clients widened, she was considering seeking out other retired programmers like herself who could help with the load of work. Then a Guardian article on programming as a career for women [my first article] brought in a flood of letters from women who were desperately needing something more stimulating to do with their time. Many were very highly qualified, but because of their children could not consider going back to a job that wanted them on an all-or-nothing basis.
There are some obvious difficulties in running a part-time business of this kind, and Freelance Programmers Ltd. is now having to face some of them. The first is one of organisation. To get a reasonable standard of efficiency, Mrs Shirley had to eliminate those applicants who did not have access to a telephone. The business is at present being run from the cottage, where the telephone rings at all hours of the day and night, and Mrs Shirley herself works very long hours keeping in touch with her staff. In order to get back herself to the part-time basis which would give her time for her family, she plans to open a central office. Here she would be able to employ a typist—at present she does the typing herself, or sends it out to one of her staff, thus making a two-day time lag. The office will be in an area where some of the staff are already living, and her plans are for a combined office and nursery suite, so that the mothers who come to the office will have the children cared for, but will be at hand if needed.
There will still be many of the staff working by themselves at home. Some of them are doing it because they need the money, but for the great majority it is a release from the pressure of four walls and a roof and a tedious round of housework. Mrs Shirley has proved that this method can be made to work, particularly for fairly short-term projects. A larger job, that might take perhaps two years to complete, she prefers to give to women less tied to family responsibilities.
She also needs more free women for the large amount of travelling and meeting clients involved in the business. An ideal staff member is a woman with no children, who is married to a schoolteacher. She had been unable to get a normal job because she wanted all the school holidays off to be with her husband, and not just the regulation three weeks. But for several months at a stretch she is free to go anywhere, do anything for the company.
It has become clear that an entirely homebound, part-time organisation will not work satisfactorily. But a group that is basically of this sort, with a leavening of more mobile staff and with an efficient central organisation, may well be a model on which similar groups of professionally trained women might be based.