Archive for the 'personal growth' Category
Recently, while reading Michael Krasny's new book, Let There Be Laughter, I came across the Yiddish word naches, which Krasny defines as "the joy and pride a parent derives from a child's accomplishments." High on a mother's list of accomplishments for her daughter would be the production of beautiful grandchildren. It was an 'Aha!' moment. I'd been re-reading some of my 1967-68 letters to parents (my mother saved them all and gave them back to me) and thinking about the strained mother/daughter relationship the letters revealed.
The occasion was our first visit back to New Zealand. It had been seven years since we left our birth country, and twelve years since I had spent more than a week or two with my parents. In the meantime I had earned an advanced degree, begun a career as a writer, married, moved to England, had a couple of children, moved to California. I had kept in touch faithfully through fortnightly letters but had had none of that face-to-face interaction that helps define a relationship.
I was wildly excited about the trip:
18 Sept. 1967
I have a bit of news that I have been saving up, partly because I still scarcely believe it myself – we are hoping to come for a visit to NZ about the middle of next year, probably in May. It will only be for a month – you get a cheaper excursion rate for 28 days – but hope that will be long enough to see everybody again, & for the children to sort out who all the vague names of grandmas, uncles, etc. are – David [our 4-year-old] has them hopelessly confused at the moment.
1 Oct. 1967
[On news that sisters & cousins were having babies] It will be fun to meet all these new members of the family – they certainly seem to be mounting up.
31 Oct. 1967
[re Christmas presents] Like you, finance is a bit low this year – as you can imagine, we are needing to save very hard for this trip.
My next letter has a firmer tone. With the help of a marriage & family therapist friend (thank you, Linda G.), I've been researching the psychology of mother/daughter relationships and discovered the Jungian concept of individuation, the process of becoming aware of oneself as a being separate from one's parents. I also learned that tensions are normal in the parent and adult child relationship during this process of separating and setting boundaries.
17 Nov. 1967
I gather that preparations are already being made for our homecoming in May. I hope you realise that our time is going to be extremely limited. We hope to divide most of it between you & [my husband's mother], but also must go to Christchurch for a few days, and also have friends around the country that we hope to visit. So you would do well to reckon on about a week (don't forget flying time is included in the 28 days). This week will have to include relations too. The plan for an open day or weekend sounds a good one. I had better make it plain from the start that, apart from our immediate brothers & sisters, and possibly grandparents if they are too infirm to travel, we are not going to do any relation-visiting. For one thing, it wouldn't be fair to the kids, dragging them round from one set of strange faces to another. If you are going to get to know them at all, which from our point of view is the purpose of the visit, we will need a quiet domestic atmosphere with as few strange faces as possible. It took David four months to adjust to living in this country. Also, two days of being an exhibition piece is about as much as T. or I could stand – we are pretty unsociable types!
Here's where the Yiddish concept of naches comes in. Looking back, I realize now that it mattered deeply to my mother to be able to show us off. She had never seen our children, her first grandchildren, other than in photographs, and she had idealized them. But as a young mother, I was having none of it:
5 Dec. 1967
Glad you see my point about visiting relations, though reading your letter again I have a suspicion that you intend to have them turning up all the time anyway. If this is so, please think again. I know, Mum, you love to have your family about you, and find it hard to understand my attitude. But to me my family is my husband and children, and next, my parents and brothers and sisters. Now I shall be delighted to meet all my uncles and my cousins and my aunts, but since practically all of them are almost total strangers, it would be much easier on us to restrict their visits to a definite two days, and leave us free for the rest of the time to do what we came for, which is to visit you.
In my psychology reading I came across another concept, filial maturity, explained as:
1) By early adulthood, particularly in the 30s, taking on the responsibilities and status of an adult (employment, parenthood, involvement in the community), the child begins to identify with the parent.
2) Eventually, the parent and child relate to each other more like equals.
When I wrote these letters about our forthcoming trip to New Zealand I was 29. After fifty years of being a mother and a grandmother, I now understand why my mother and I were at odds. I'm sorry she had to deal with such a difficult and demanding daughter. I also know this was the way it had to be.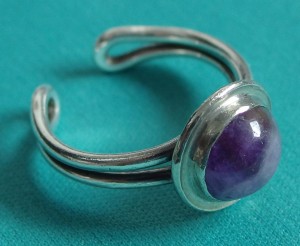 The ring is nothing fancy: a cabochon of amethyst quartz clumsily set in a plain silver bezel. No magic symbols engraved on the back. Yet it is a talisman. Whenever I wear it, I hear in my mind the unspoken message of the woman who sold it to me.
The year was 1966. Knowing it might be our last year in England, our family (husband, two infant boys and me) took a summer trip through England and into Scotland, staying mostly in private homes that offered bed and breakfast. A farm in the Peak District of Derbyshire. Across the Yorkshire Dales to Huddersfield and Keithley, from whence my paternal grandfather had emigrated as a young man to New Zealand. Up to a gray stone village on the moors to take tea with a sweet great-aunt who had married and stayed behind when her siblings left, and whose knowledge of the whole New Zealand branch of the family put me to shame. The Lake District, lowering with storm clouds and redolent with Wordsworthian cadences. A stone circle near Keswick. Hadrian's Wall, a loch in Scotland. Yellowing pictures now fill a photograph album.
The little roadside shop was somewhere in the northern hills of England, on our way home. A gray, damp day, a gray, bleak building. Nothing much else around. We all needed a break from driving, so we stopped. Quickly bored with the arts & crafts contents of the shop, our toddler and the baby drifted outside with their father. I lingered, drawn to the young woman attendant, who sat at a table threading beads into a necklace. A knitted shawl around her shoulders, long mousy hair falling in a braid down her back. We chatted. She had left an unhappy relationship and was determined to survive on her own.
She had the confidence I lacked. Brought up in a conservative culture and married young, I was struggling with a sense of powerlessness in my traditional wife-and-mother role. There were times I felt trapped, and thought of escaping with the children back to New Zealand. But this would have felt like defeat. Besides, it was impractical. I had no money to pay for fare, no clue about how I would manage on my own once I got home.
My encounter with the woman on the moor was brief. I never learned her name. But the amethyst ring symbolizes an unspoken pact between us. What I gave her was good wishes and payment for her work. What she gave me was confidence that I too could find my inner strength. This is what I remember when I wear it.