Archive for the 'calligraphy' Category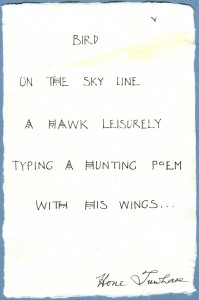 This week, when I fly to New Zealand on a family visit, I will have with me a small sheet of drawing paper. In a top corner is a drawing of a bird flying over a hill, with a delicate watercolor wash. The rest of the sheet contains a tiny poem, hand-written in beautiful calligraphy, and signed by the poet/artist, Hone Tuwhare.
The manuscript is one my treasured possessions. I have pangs of regret about parting with it, but know I am doing the right thing. In New Zealand Tuwhare's work is considered a taonga, a treasure. He was the first Māori poet writing in English to win widespread acclaim. His best-known book, "No Ordinary Sun." first published in 1964, was reprinted ten times over the next thirty years, becoming one of the most widely read individual collections of poetry in New Zealand history. The title poem is a response to French nuclear testing in the Pacific. Many more collections followed. His work has a conversational tone and incorporates both Māori and biblical rhythms; the subjects range from the political to the personal and often powerfully evoke the beauties of nature. He won several New Zealand book awards, and was poet laureate of New Zealand in 1999–2000. He died in 2008, at the age of 85.
The Māori concept of taonga also includes the story that goes along with the item. My little manuscript was a gift from Jean McCormack Tuwhare, Hone's ex-wife. She and my mother-in-law were friends. On a visit to New Zealand in 2000, I spent a delightful afternoon with Jean at Mother's house discussing poetry and literature. Mother had shown Jean my first poetry collection, "A Place Called Home," and later suggested I send her a copy. Enclosed in Jean's thank-you letter for the book was the Tuwhare manuscript. Unfortunately the letter is lost, but as I recall, Jean wrote that Hone (with whom she was still close friends) liked to practice calligraphy and had given her several of these small pieces to dispose of as she wished. She thought I might appreciate having one.
[Update 6/2/1016: While in New Zealand, I learned from Rob Tuwhare, Hone and Jean's son, that Jean herself did the calligraphy, and Hone signed her work.]
I am of an age when I need to make decisions about my stuff. Knowing that the manuscript could easily get overlooked among our mountains of paper and art works, I sought professional help. I told Malcolm Moncrief-Spittle of Renaissance Books (New Zealand) , who deals in rare and out-of-print books, that I thought my taonga should be returned to New Zealand. Which university or cultural institution in New Zealand already houses a collection of Tuwhare material and would be a suitable recipient? I asked. He recommended the Hocken Library at the University of Otago in Dunedin.
Staff at the Hocken Library responded to my query with enthusiasm. We've arranged a meeting on May 9, when I will hand over the carefully packaged manuscript. I know it will be a happy/sad occasion.
I spent this morning thinking about the intersection of writing and art — how we can be moved by a piece of art that involves words, even when the writing is undecipherable. Or when you are ignorant of the language, as I was recently in Istanbul, where I was captivated by the Arabic script that decorated walls of mosques and palaces.
Last night was the opening celebration in Mendocino for the show "Boundless: Art of Letter, Word and Book," which curator Janet Self describes as a "hands-on conversation about art, language, books, and engagement in the modern age." I have several pieces in the show: a poem collaged onto a cast paper fish, the poetry box from my vegetable garden, a handmade book that employs a complex flower-fold structure (suggested by Alisa Golden in "Making Handmade Books"), plus some broadsides and tiny chapbooks.
 As I looked around the room, I saw uses of the written word that sparkled with creativity. Janet has posted some pictures on her Flockworks blog site. Among my favorites were "House of Cards," a walk-in house shape whose walls were linked postcards from all over the world, sent years ago to members of the same family, and inherited by the house-maker. I chatted with Harry Van Ornum, a calligraphy student who, having filled his practice paper with lyrics by a favorite singer, turned the paper sideways and continued, making of the words an abstract form. Janet Self, faced with a huge collection of her father's Reader's Digest Condensed Books that no thrift store would take, repurposed the pages into large, flowing geometric sculptures.
My favorite encounter was with a young man who stood entranced in front of a calligraphic painting by the late Jim Bertram, one of the artists who helped found the Mendocino Art Center in the 1960s. It was part of a collection being sold as a fund-raiser for Flockworks, the tiny nonprofit that creates such community art projects as the "Boundless" show.
 "Excuse me," he said. "Can you tell me if that calligraphy is in some language?"
Having met and written about Jim Bertram not long before he died, I was able to tell the young man that no, the beautiful shapes were not words. I told him about the quote I found while researching this artist: Line expresses the inner thought. It is a narrative of what we really want to tell each other but somehow can't seem to verbalize.
"Now I really want that painting," the young man responded. "I don't have any money. But next payday, I'm coming back to buy it."