Archive for the 'art' Category
What is art, and what place has it had in my life? This was the assigned topic for the first set of high school student essays I graded in my first paying job in California. In those days, the late 1960s, California schools had enough money to hire readers to relieve teachers of the time-consuming task of grading papers. I worked primarily with Millicent Rutherford, the Humanities teacher at Lynbrook High School, in the Cupertino Union School District. Over time, we developed a warm friendship.
I was saddened to learn that Millicent died last October, at the age of 91. Her obituary notes: "She will be remembered for her glittering sense of style, her sharp wit, and her boundless energy." A 1991 Los Angeles Times article on remembering teachers who made a difference  includes an anecdote by Stephen Bennett, CEO of AIDS Project Los Angeles:
"We'd study Italian art and [Ms Rutherford] would get . . . photographs from some of the Pompeian paintings that are not typically looked at—the parts of Pompeii they won't show you because the graphics on the wall are what Americans would consider lewd. And she'd show up in a Pompeian red dress to start the day."
To honor Millicent's memory, I've been thinking about how I might respond to her essay topic.
When I was the age of Millicent's students, music was my passion. I played second violin in my town's municipal orchestra. At my first concert, the orchestra tackled Beethoven's Symphony No. 5. It must have sounded decidedly amateurish. But the experience of being a part of that magnificent work, of sharing the language of music with my fellow musicians and with an audience, is a thrill that has always stayed with me.
Painting too speaks a language without words. On the wall of my office is a reproduction of Georges Rouault's "The Old King." I saw the original fifty years ago, at the National Gallery in London. Friends I had come with moved to another room without me as I sat on a gallery bench, weeping. I still weep inside when I look at it.
Concerts, theatre, dance performances and visits to art galleries have always been a major part of my life. The written word has been my personal art form. To struggle with the lines of a poem, to convey emotional meaning through images, leads me to a personal answer to the question: "What is art?" For me, it is a way of sharing what is meaningful in our lives.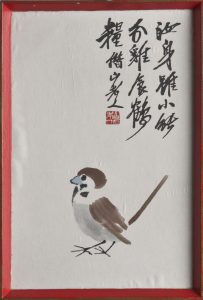 In the late 1950s, when my husband Tony was a student, he strolled into a junk shop in the small town of Hawera, New Zealand. A charming image of a sparrow caught his eye. Fast forward ten years. Tony was by then an engineer at a high tech company in Silicon Valley. The sparrow pops up again in a letter I write to parents:
14 April 1969
A friend of Tony's from Memorex came to dinner. A Korean boy … He is really charming, and we had a pleasant evening. One interesting thing that came out of it – Yun also reads and writes Mandarin Chinese, so was able to translate the inscription on our sparrow picture for us. Do you remember our sparrow? It is a little brush drawing that Tony picked up in a junk shop in Hawera when he was a student, shortly before reading in a magazine a story about a famous Chinese artist who was objecting to a government campaign to kill off the sparrows to improve the wheat production. He made these little posters, inscribed with sentimental stories about the sparrow. And this, as far as we can tell, is what we have got.
With the help of the Internet, I've been piecing together my fragments of knowledge about this period in Chinese history. What I discovered is a familiar story about well-intentioned interference with nature leading to ecological disaster.
In the First Five-Year Plan of the newly-founded People's Republic of China, families were each given their own plot of land. In the Second Five Year Plan, begun in 1958, a new agriculture system was announced. Family farms were grouped into collective farms, making each village a single production entity in which everyone would have an equal share. Food would be provided in a communal kitchen.
In theory, a collective farm where resources were centrally controlled should be more efficient and yield higher productivity. In practice, agricultural production figures fell. Food shortages were exacerbated by flood and drought. Believing that getting rid of sparrows, who ate grain, would improve production, Chairman Mao Zedong launched the Four Pests Campaign, which encouraged citizens to kill them, along with three other pests: rats, flies, and mosquitoes. Sparrow nests were destroyed, eggs were broken, and chicks were killed. Many sparrows died from exhaustion; citizens would bang pots and pans so that sparrows would not have the chance to rest on tree branches and would fall dead from the sky. Citizens also shot the birds down from the sky. These mass attacks pushed the sparrow population to near extinction.
In hindsight, the result was inevitable.  Too late, Chinese leaders realized that sparrows didn't only eat grain seeds. They also ate insects. With no birds to control them, insect populations boomed. Locusts, in particular, swarmed over the country, eating everything they could find, including crops intended for human food. People, on the other hand, quickly ran out of things to eat, and tens of millions starved.
In 1968, after nearly seven years abroad, my husband and I, along with our two young children, paid a return visit to New Zealand, our homeland. My letters to parents after that visit indicate that we felt unsettled and were exploring how we could return permanently. Unfortunately, I no longer have the letter in which my mother must have suggested we would have been better off if we hadn't left in the first place. But I do have my answer. Reading it again, I'm struck by how relevant my defense of the value of travel still is.
6 August 1968
A big question you asked, Mum, with a number of overtones. I think you really would have preferred your family to be more like [her sister's children], wouldn't you? I envy them too, in a way, settling down in the neighbourhood in which they were brought up, sharing common interests and activities with their parents and their local community.
It would have been simpler to have stayed at home. But the question is, whether you want a peaceful, comfortable life, or whether you need to know yourself. It does no harm to strip away a few illusions. The most important thing about travelling is that you quickly lose the complacent assurance that your own little set of values holds good for everybody. It is only by getting away from NZ that you can begin to see the country and its people in perspective, and it is only by being a foreigner in a different community that you can learn to be objective about social attitudes and customs.
I would be very sad not to have seen the things I have seen. It is not that our perceptions are dull in New Zealand, just that in many areas they cannot be awakened. All the art appreciation we had at school was poor second-hand stuff compared to our first sight of original Rembrandts in New York. History was unreal too, until we walked through the streets of London, or found, in the crypt of a Mediaeval abbey, a Saxon chapel built of masonry filched from Roman ruins. Childhood fairy stories had little meaning until I saw castles and village greens, and crooked pink cottages with overhanging thatch and winding sprays of apple blossom and ducks on a pond.
Of course there are difficulties, one being that it is very easy to finish up with a splendid pile of memories, and no homeland. But on the other hand, I now have a better idea of what sort of person I am, and this to me is more important.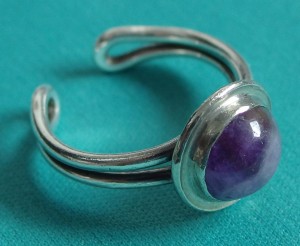 The ring is nothing fancy: a cabochon of amethyst quartz clumsily set in a plain silver bezel. No magic symbols engraved on the back. Yet it is a talisman. Whenever I wear it, I hear in my mind the unspoken message of the woman who sold it to me.
The year was 1966. Knowing it might be our last year in England, our family (husband, two infant boys and me) took a summer trip through England and into Scotland, staying mostly in private homes that offered bed and breakfast. A farm in the Peak District of Derbyshire. Across the Yorkshire Dales to Huddersfield and Keithley, from whence my paternal grandfather had emigrated as a young man to New Zealand. Up to a gray stone village on the moors to take tea with a sweet great-aunt who had married and stayed behind when her siblings left, and whose knowledge of the whole New Zealand branch of the family put me to shame. The Lake District, lowering with storm clouds and redolent with Wordsworthian cadences. A stone circle near Keswick. Hadrian's Wall, a loch in Scotland. Yellowing pictures now fill a photograph album.
The little roadside shop was somewhere in the northern hills of England, on our way home. A gray, damp day, a gray, bleak building. Nothing much else around. We all needed a break from driving, so we stopped. Quickly bored with the arts & crafts contents of the shop, our toddler and the baby drifted outside with their father. I lingered, drawn to the young woman attendant, who sat at a table threading beads into a necklace. A knitted shawl around her shoulders, long mousy hair falling in a braid down her back. We chatted. She had left an unhappy relationship and was determined to survive on her own.
She had the confidence I lacked. Brought up in a conservative culture and married young, I was struggling with a sense of powerlessness in my traditional wife-and-mother role. There were times I felt trapped, and thought of escaping with the children back to New Zealand. But this would have felt like defeat. Besides, it was impractical. I had no money to pay for fare, no clue about how I would manage on my own once I got home.
My encounter with the woman on the moor was brief. I never learned her name. But the amethyst ring symbolizes an unspoken pact between us. What I gave her was good wishes and payment for her work. What she gave me was confidence that I too could find my inner strength. This is what I remember when I wear it.
A magazine clipping tumbles from a November 1964 letter from England to my parents. It's the picture of a dinner service I won in a menu-planning competition. Looking at the geometric pattern on the dishes, I realize that the way we furnished the row house we bought that year has many elements of what is now recognized as a distinctive 1960s aesthetic: bold shapes and strong colors.
Having limited funds, Tony and I refurbished or made many pieces of furniture. The dining table he made was a heavy white plastic-veneered slab with straight, varnished wood legs. He built, and I upholstered, a sofa and side chairs with squared-off, simple lines, a copy of a set we particularly liked, but whose price was prohibitive. I made all the curtains from fabric purchased at Heal's of London, the store that carried the trendiest of household furnishings. I wrote:
8 August 1964
The sitting room curtains are quite magnificent – deep orange flame colour, with a pattern called "Armada," the formalised ships' hulls giving the impression of a dark horizontal stripe.
A shag (another 1960s design element) area rug that matched the curtain's colors helped warm up the coldness of the room. After battling the developer over the house's color scheme, we had compromised on gray vinyl tile floor and plain white walls. In the kitchen and dining area, we covered the white with a geometric wallpaper. A photograph reveals more geometrics: the gray and white kitchen curtains, the cups and saucers on the counter.
We still have one platter from that dinner service I won. A few other items, mainly metal, have survived the years. A pewter jug purchased on board ship during our emigration from New Zealand to England still sits on our kitchen windowsill. To the right of the dinner service picture, behind a porcupine of cheese chunks on skewers, are familiar objects: salt and pepper shakers just like the ones we still use every day. I guess we, like these furnishings, can all be labeled "vintage."
In 1964 my husband Tony came into an inheritance, enough to put a down-payment on a small row house in a village on the outskirts of London. From first placing a ₤50 holding payment on a partially-built structure to actually moving in took seven months. Today, with the purchase, remodeling and/or building of four subsequent houses behind me, I read my letters to parents from that period with wry sympathy, thinking how universal is the impatience of a young couple buying their first house.
The first letter in the series has a page or more of excited detail.
11 May 1964
… though still with the nagging doubt that it is all too perfect, that something is sure to go wrong. Points in favor: a brand new house within our price range (rare), architect-designed with imagination (also rare), less than a mile from Tony's job, practically in the country with a charming view over open fields to woodland, closer to London (20 minutes by fast train to Waterloo) and won't be finished for three months by which time we should have the means to pay for it…. Small, of course, but with ingenious use of space and attractive layout …
When I was growing up, my mother filled binder after binder with house design ideas and plans. We (my parents, three children, and succession of boarders – aunts, uncles, and family friends, often two at a time) lived in a rental Craftsman bungalow built about 1910: two bedrooms and a sleeping porch accessible only through the parents' bedroom and through a laundry room in which a toilet was installed late in our tenure. (Before that, we used the outhouse back in the yard.) Mum eventually built her dream house when I was about thirteen. In the meantime, I learned a lot about building design and became very familiar with architectural drawing and its symbols. I drew her a sketch:
After a month of marking time, and a thickening correspondence file, a tirade about a building society (English equivalent of a mortgage company) to whom we had applied:
8 June 1964
… the building society wouldn't consider our house for a mortgage because it was too contemporary in design – they stick doggedly to the deadly dull conventional things. We saw one the other day, part of an estate quite near here – good solid brick, appallingly bad planning, and claustrophobically tiny windows. Mortgages no bother.
A month later, good news on the offer of a loan from another building society. However, letters for the next several weeks report a battle with the developer:
30 July 1964
… One of the hazards of a speculative development – they are very reluctant to depart from the standard model, which in this case is decidedly murky – masses of dark grays, black, browns & blues. I'm getting a bit fed-up – sick of looking at samples & doing sums – I want some action round the place.
8 August 1964
… ran into trouble over the alterations we wanted to the colour scheme – we were met with a blunt 'take-it-or-leave-it.' However, eventually Tony rang up & told them they were a lot of bloody-minded so & so's, & managed to get the most important concession – the colour of the tiles on the floor. The rest of the detailing we shall probably have to rip out & replace as we can afford it. Infuriating, but the housing situation being what it is, we daren't tell them to go to hell.
Inevitably, construction delays kept postponing the finish date for the house:
26 Sept. 1964
We went up to London on Tuesday to sign the lease & mortgage documents for the house. Exciting, but still somewhat unreal. I am ceasing to believe in the existence of the house, and find it rather unsettling to go over every other weekend or so & find they have done a tiny bit. Still no idea when we can shift in – it will probably be weeks yet.
8 December 1964
It is still hard to believe that we have actually moved in. Up to 9:15 on Friday morning, with the carrier already piling boxes into the van, we still didn't know if we could – it all depended on the cheque from the building society being in our solicitor's post. A strange, unreal situation to live through. However, talking to some of the other people who have moved in, they seem to have had much more trouble than us, so we must be thankful.
Anyway, in all the chaos of cancellations, postponements, etc., it was too much trouble to cancel our housewarming party, so we held it as planned on Saturday night. The earliest arrivals were detailed off to put up curtain rails, shift packing cases from the middle to the sides of rooms, etc. Quite a successful party, I think. About a dozen people (& kids) stayed overnight, dossing down wherever for what was left of the night – we got to bed about 4 am, & a few more people dropped in for brunch the next morning. Needless to say by today we are both pretty worn out, but the house is more or less habitable. Strange what an effort, both physical & mental, to make a shell filled with boxes into a habitable room.
This story starts with a ceramic pot. But which one? Maybe the Lowerdown Pottery bowl I've treasured for over fifty years. Or maybe the piece that first inspired Bernard Leach, who is recognized  as the "father of British studio pottery," to take up the craft when he was invited in 1911 to a raku tea party in Japan. The story involves three generations of eminent potters: Bernard Leach, his son David Leach, and his grandson Simon Leach.
In June of 1964, Tony and I went on a vacation with friends to a village in Cornwall where we rented a house. In a letter to parents I wrote:
Yesterday we had quite a big trip – to St. Ives & Lands End. …Arrived at St. Ives in time for lunch – fish & chips in a restaurant overlooking the harbour, watching the tide racing in across the sands. After lunch [our friends]  sat on the beach while we explored – delightful little town, all higgildy-piggildy. …On the way out of the town we called at Bernard Leach's studio… One of the greatest of modern potters.
At the studio we learned that Leach's son David, who had for many years worked at and managed the St. Ives studio, now had his own pottery at Bovey Tracey in Devon, which happened to be on the back roads route the British Automobile Association had mapped out for us. As we descended from Dartmoor on our way home, there it was: Lowerdown Pottery. David Leach himself greeted us as, children firmly by the hand, we looked around. Although I had very little spare cash, I indulged and bought a pot.
Fast forward forty-nine years. At the urging of our family, Tony and I are trying to  putting our affairs in order. We decide to start by making an inventory of our treasures. He photographs, I catalog. We come to the Lowerdown pot. Is it by David Leach or by one of his assistants or students? Its form has affinities with the work of Bernard's friend Shoji Hamada, who is regarded as one of the most influential masters of studio pottery, and under whose tutelage David first learned the art.
By now David Leach has died, but I discover that his son Simon has also become an eminent potter. I find an email address on his website and write to him:
Dear Simon Leach,
About 1964 I visited Lowerdown Pottery and purchased a bowl from your father David Leach that has been a treasured possession ever since. I'm now trying to put my affairs in order for my heirs and am having a little difficulty finding a valuation for this piece — it seems most of his work is now in private collections or museums. It's stoneware, 5.25 inches in diameter on a narrow foot with his impressed mark on the base. Here's a picture. If you could give me an estimate of what it's worth, or where I might turn for this information, I'd be most grateful.
Within a day I receive a gracious reply:
3/5/2013
Hi Maureen
Please send me an image of the seal on the base – clear and in focus also of the other side of the piece.
I will give you an approximate worth if I can.
Best Simon
With the requested images in hand, Simon again responded immediately:
3/6/2013
Hi Maureen
Having seen the seal I see that it is an L+ which means it was made at Lowerdown Pottery.
My father's work had an Ld to the base. This means that it was not made by him personally…but by an apprentice or other potter there at the time.
Lowerdown pieces with an L+ are of course more plentiful than ones with the Ld so it's value is somewhat less I would estimate.
I would say it's value approximately would be in the range 80-100 pounds sterling.
If it had an Ld you might be looking at 250-300 pounds for such a piece.
That is the best I can do for you.
Best Simon
Not only did I have the documented valuation I needed for our inventory. I also had the pleasure of renewing a connection with this family of great British potters.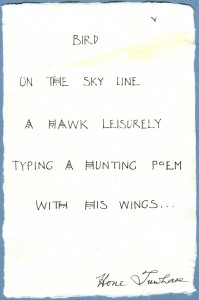 This week, when I fly to New Zealand on a family visit, I will have with me a small sheet of drawing paper. In a top corner is a drawing of a bird flying over a hill, with a delicate watercolor wash. The rest of the sheet contains a tiny poem, hand-written in beautiful calligraphy, and signed by the poet/artist, Hone Tuwhare.
The manuscript is one my treasured possessions. I have pangs of regret about parting with it, but know I am doing the right thing. In New Zealand Tuwhare's work is considered a taonga, a treasure. He was the first Māori poet writing in English to win widespread acclaim. His best-known book, "No Ordinary Sun." first published in 1964, was reprinted ten times over the next thirty years, becoming one of the most widely read individual collections of poetry in New Zealand history. The title poem is a response to French nuclear testing in the Pacific. Many more collections followed. His work has a conversational tone and incorporates both Māori and biblical rhythms; the subjects range from the political to the personal and often powerfully evoke the beauties of nature. He won several New Zealand book awards, and was poet laureate of New Zealand in 1999–2000. He died in 2008, at the age of 85.
The Māori concept of taonga also includes the story that goes along with the item. My little manuscript was a gift from Jean McCormack Tuwhare, Hone's ex-wife. She and my mother-in-law were friends. On a visit to New Zealand in 2000, I spent a delightful afternoon with Jean at Mother's house discussing poetry and literature. Mother had shown Jean my first poetry collection, "A Place Called Home," and later suggested I send her a copy. Enclosed in Jean's thank-you letter for the book was the Tuwhare manuscript. Unfortunately the letter is lost, but as I recall, Jean wrote that Hone (with whom she was still close friends) liked to practice calligraphy and had given her several of these small pieces to dispose of as she wished. She thought I might appreciate having one.
[Update 6/2/1016: While in New Zealand, I learned from Rob Tuwhare, Hone and Jean's son, that Jean herself did the calligraphy, and Hone signed her work.]
I am of an age when I need to make decisions about my stuff. Knowing that the manuscript could easily get overlooked among our mountains of paper and art works, I sought professional help. I told Malcolm Moncrief-Spittle of Renaissance Books (New Zealand) , who deals in rare and out-of-print books, that I thought my taonga should be returned to New Zealand. Which university or cultural institution in New Zealand already houses a collection of Tuwhare material and would be a suitable recipient? I asked. He recommended the Hocken Library at the University of Otago in Dunedin.
Staff at the Hocken Library responded to my query with enthusiasm. We've arranged a meeting on May 9, when I will hand over the carefully packaged manuscript. I know it will be a happy/sad occasion.
By the time I interviewed him in 1963, Paul Abbatt and his wife Marjorie had spent thirty years as advocates for the importance of play in the development of young children and for the betterment of children's toys and playing facilities. Toys commissioned by their toy company, Paul and Marjorie Abbatt Ltd. of 94 Wimpole Street in London, won prestigious international awards for their good quality and design. Paul Abbatt, whose chief interest was in 'the ethos behind the business,' delivered lectures and contributed to academic and professional journals on child development.
In 1963, Abbatt was focusing on outdoor playgrounds for older children. He commented that
"…as a society becomes more urban and industrialised, it becomes more and more hostile to the child and its needs. As buildings are packed closer and closer together, available sites become too valuable for industry, or for car parks, to be used for children's playgrounds. Even the upper class child with a garden of his own is no better off, for custom demands that his parents keep their grounds neat and spotless, and the child has no opportunity for such fundamental activities as building a den, or digging down to Australia.
In keeping with the stereotypes of his time, by older children he meant older boys, assuming that a girl would be "already a mother with dolls, kitchen, a little house of her own." The interview continues:
Mr Abbatt believes that the solution to the needs of the older child can be found in the adventure playground. The first of these was built several years ago in Copenhagen, where the designer, instead of putting in the usual concrete shapes, swings and slides, filled his playground with builders' junk. The playground was a great success, and was copied all over Europe. Some cities produced old cars, or traction engines, used tires, and even an old boat.
The first experimental playgrounds, with their carefully manufactured playing facilities, had not been a success. The children were interested at first, but quickly gravitated to the streets just outside the playground, where they were closer to the real life that they knew. But when the material was provided on the sites for them to build their own dens, they could create their own world inside the playground. "Building a den seems to be fundamental to children's play, and other activities develop round the original den," said Mr Abbatt. In Zurich, for example, the gang who inhabited one playground built up such a community spirit that they had their own bank with its own play money, a duplicated magazine, an antique shop, and even a farm with a dozen ducks on a man-made pond. When each gang deserts the playground, as they eventually do, the dens are pulled down, and the next gang to come along starts from scratch with the pile of junk.
In the meantime, in Copenhagen, the first adventure playground has become something of a showplace for visiting social workers. The grounds have been tidied up, and the rough dens turned into pretty villas. The visitors look and admire, but the children no longer come.
Similar problems affect playgrounds in Britain. They are normally noisy, untidy, derelict places, a disgrace to the neighbourhood of neat houses with even neater gardens. So local residents complain, and the council tidies up the playground. "In doing so, they destroy the urge for creative activity that the previous junk-heap gave to the children," said Mr Abbatt.
In preparation for a conference of the International Council for Children's Play, which Abbatt helped found, he is making a descriptive survey of children in Britain.
He has invited parents to write and tell him what their children do, and, since small boys particularly are notoriously uncommunicative about the activities of their gangs, he is also seeking information from policemen, schoolteachers, traffic wardens, and others who see the children outside their homes. Already the response from parents has been overwhelming.
He hopes that the survey will provide town planners, architects, and designers, with information on what children really want out of their community.
In a note to my editor, I promised a follow-up when the survey results were in. I'll talk about that in my next blog piece.
An old letter from my black file cabinet brought back memories of a brief vacation in Paris in 1962. Rereading the headlong, crammed-onto-the-page text, I hear again the breathless voice of a wide-eyed young traveler falling in love with the city of light.
I've not been back to Paris. It's likely I never will. But, as in the old Jerome Kern song, I'm happy to remember her as I saw her back then.
Listen to Dame Kiri Te Kanawa
singing "The Last Time I Saw Paris."
Windsor, 24 Sept
Dear Mum & Dad,
Back home in England again, and not particularly pleased to be back to these bleak autumnal mists, and a real stinker of a cold to go with it—first cold I have had for ages. We had a wonderful week in Paris, and fell in love with the city. Left very early Monday morning—rose before the sun, about 5 am, and took off at 8 in a Caravelle, a very fast French jet plane, which landed us in Paris before 9 – though it was after 10 by the time we got to our hotel, which was in a little side street off one of the main boulevards. Rather noisy, at least for the first night, as it was close to the great city market, which does its business in the small hours of the morning. The second night we didn't even notice it. Nice room, with a balcony from which we could watch all the goings-on in the street below—most entertaining. We spent practically every day walking—the number of miles must be pretty high. First morning we went down to the old centre of the city, the Île de la Cité, an island in the Seine, and had a look at Notre-Dame—I hope you got the postcard I sent you of it. Spent the rest of the day pottering round the island, along the banks of the river to the Tuileries, and back by a more or less circular route to the hotel. The next day we went up to the north side of the city, to the hills of Montmartre—fascinating streets, most of them ending in steps, somewhat like parts of Wellington, and with graceful balconied buildings with the plaster peeling off. About midday we went out to the woods of Boulogne, a huge park just out of the city, where we watched workmen playing at bowls in their lunch-hour. It is a sort of grown-up marbles, played with heavy steel balls that you throw to knock out the kitty. Then we went back to the Arc de Triomphe and walked down the Champs Elysees—lots of interesting shops, and the wide street incredibly tightly packed with vehicles—you look down the street and you see nothing but a sea of car roofs. Traffic in Paris is very thick, very, very fast (no speed limits) but amazingly well organized. Pedestrians beware though—they are very much second class citizens, and boy do they hop when the traffic starts to move. Anyway, back to Tuesday—later in the afternoon we went over and had a look at the Eiffel Tower—a remarkable piece of engineering. We didn't go up it, however—we had already seen enough views of Paris from above, and weren't very keen on its reputation for swaying.
The next day we met my college friend John Wilson, who is at present living in Paris, and he took us out for the day in his little car, one of the new utility model Citroens. You may not have seen them in New Zealand. A chopped-off little bug, a bit ugly, very mass-produced, but able to go anywhere, very cheap, and very comfortable to ride in. There are thousands of them in Paris. Went first to Versailles, to look at the palace where the king and Marie Antoinette were taken from to have their heads chopped off. A most impressive building (though we didn't have time to go inside), and the gardens are incredibly beautiful, in a cool, formal sort of way. Mostly vistas of fountains and pools, with statues, with a few formal flower beds, and woods beyond, laid out with a grace and elegance unknown to these more democratic times. We could have stayed there just wandering all day, but had to get going again, through side roads and quaint little villages. We had lunch in one, at a street café in the village square, just outside the gates of a very charming old chateau, whose towers were reflected in the canal close by. Then on to Chartres. The cathedral stands on a hill overlooking the plain, where there has been a church since the third century. This one was built in the 13th century, and was remarkable in that, except for part of one tower, which is noticeably odd, it was completed in thirty years. Outside very elaborate and impressive relief carvings in the porches, lots of gargoyles and what not.
You go inside, and it seems at first quite dark. Then gradually, as your eyes get used to the light, the huge pillars begin to appear, lit up by a pale greenish, strangely luminescent glow. Then you look up, and are practically dazzled in the burst of red and blue and green. The stained glass windows of Chartres are said to be the most magnificent in the world, and I can well believe it. To the north, south and west are huge rose windows, and all around are arches, each closely worked with many little pictures of saints, in incredibly fine detail. The result is a blaze of pattern and colour.
Then back the sixty miles to Paris, through wide open fields—no fences in this region, and the land is fairly bare of trees, and with a very gentle swell. It is a grain growing area—lots of harvesting machinery, and everything a beautiful golden colour—even the soil is the same colour as the wheat stubble. The next day we went to the Louvre museum, or at least to a small annexe, the Impressionists gallery—Van Gogh, Renoir and co., and discovered again the beauty of many of the paintings that we had thought a bit hackneyed in reproduction—things like Degas's ballet pictures for instance—very beautiful and subtle in the originals. Spent all morning there, and in the afternoon walked over to the other side of the city, to see the UNESCO building, a very fine modern building. Our favourite part of it was a Japanese garden in the grounds, a little area of different levels and contrasting textures of stones and gravels, a stream and a pond, and a few bushes. Sounds rather stark and uninteresting to describe, but the result was charming, and very peaceful and relaxing. Friday back to the Louvre, to the main museum this time, but when you think that each of the wings of this is about a mile long, with several intersecting galleries about half a mile across, and all several stories high, you will realise that we didn't see much of it, and even what we did see—mostly Assyrian, Egyptian, Greek and Roman antiquities, there were so many fascinating and beautiful things to look at that we didn't do them justice—excuse for going back! Later in the afternoon we had to think of getting ourselves back to the airport. Bought some beautiful (smelly) French cheeses from one of the many street markets, then got out to the airport to catch our plane at seven. Wonderful to see the lights of London as we flew over the city—when we got under the cloud, that is. Very exhausted by the time we got home, but still wouldn't mind doing it again. Though went into London yesterday, to see [our friend] Bill, an exhibition at the Tate, and a concert at the Festival Hall, and decided that London was rather lovely too.
Vive la France! Love, Maureen