Archive for the 'family' Category
In 1968, after nearly seven years abroad, my husband and I, along with our two young children, paid a return visit to New Zealand, our homeland. My letters to parents after that visit indicate that we felt unsettled and were exploring how we could return permanently. Unfortunately, I no longer have the letter in which my mother must have suggested we would have been better off if we hadn't left in the first place. But I do have my answer. Reading it again, I'm struck by how relevant my defense of the value of travel still is.
6 August 1968
A big question you asked, Mum, with a number of overtones. I think you really would have preferred your family to be more like [her sister's children], wouldn't you? I envy them too, in a way, settling down in the neighbourhood in which they were brought up, sharing common interests and activities with their parents and their local community.
It would have been simpler to have stayed at home. But the question is, whether you want a peaceful, comfortable life, or whether you need to know yourself. It does no harm to strip away a few illusions. The most important thing about travelling is that you quickly lose the complacent assurance that your own little set of values holds good for everybody. It is only by getting away from NZ that you can begin to see the country and its people in perspective, and it is only by being a foreigner in a different community that you can learn to be objective about social attitudes and customs.
I would be very sad not to have seen the things I have seen. It is not that our perceptions are dull in New Zealand, just that in many areas they cannot be awakened. All the art appreciation we had at school was poor second-hand stuff compared to our first sight of original Rembrandts in New York. History was unreal too, until we walked through the streets of London, or found, in the crypt of a Mediaeval abbey, a Saxon chapel built of masonry filched from Roman ruins. Childhood fairy stories had little meaning until I saw castles and village greens, and crooked pink cottages with overhanging thatch and winding sprays of apple blossom and ducks on a pond.
Of course there are difficulties, one being that it is very easy to finish up with a splendid pile of memories, and no homeland. But on the other hand, I now have a better idea of what sort of person I am, and this to me is more important.
An image haunts my mind like an old song in a minor key. From a train window late at night, a desert plateau spreads into the distance. In the foreground, scattered clumps of tussock, stiff with frost, emerge from a dusting of snow. On the horizon, three volcanic cones gleam white against the blackness. The scene is both bleak and beautiful. Tranquil even. A calmness fills me as I remember.
The year was 1968, the place the center of North Island, New Zealand, somewhere north of Ohakune on the Main Trunk Line. I was traveling by train, alone, to a funeral.
It had been a tense few months since my husband and I, with two young children, had decided to make the trip back to New Zealand, our home country, to visit our families. First there was boundary-setting to do with my mother on how much relation-visiting I would allow her to inflict on my shy infants. A few weeks prior to our departure date the children developed chickenpox, one after the other, pushing our schedule further into New Zealand's winter and upending an itinerary that carefully divided our limited time between my husband's family and mine. On arrival, I discovered my mother had sabotaged this division by taking a motel room in my mother-in-law's town. Each day she ensconced herself in mother-in-law's tiny living-room, dragging my embarrassed father and school-age sister with her. Other sisters later told me they'd remonstrated with her, but she'd insisted she had a right to see her long-gone daughter as soon as I arrived. My mother-in-law was gracious, but I was furious on her behalf.
Then fate intervened. On a night of heavy rain, my maternal grandmother's husband stepped from between parked cars into the path of an oncoming truck. I did not know my step-grandfather, since he and grandma married about the time I left for college. But grandma had been an important part of my childhood, and she loved this man, so it mattered that I go to the funeral. Leaving the children with their father and his mother, I set out on the overnight journey. First a railcar from New Plymouth, on the west coast, which connected at Marton with the Night Limited express that ran each night between Auckland and Wellington.
I knew this train, having ridden it back and forth many times when I was in college. There was comfort in the familiar sway and smell of the overheated, stuffy carriage, the faded red plush covering high-backed seats, the clackety-clack of the wheels. There was peace too. For the first time since the children were born I was alone, with no responsibilities.
Beyond the desert and mountain vista on the Volcanic Plateau, the chuff and grind of the diesel engine became more labored as the narrow-gauge track rose into a more broken landscape, with forest a dark overhang outside the window. Then Taumarunui Station at 2:00 am, the refreshment stop, where bleary passengers streamed into the tea-room for meat pies or slabs of yellow pound cake and milky tea in thick white china cups. Sometime around dawn, a stop at Te Kuiti where relatives met me for the two-hour drive to Tauranga, where the funeral was to be held. Calmed by the journey, I willingly renewed acquaintance with uncles and cousins and aunts I'd argued with my mother about seeing.
Looking back, I understand what that spare, snow-covered landscape was telling me: that the land is vastly more important than human quarrels, that I needed to let go of my day-to-day tensions and anxieties and become merged with the wholeness of the earth.
The best laid schemes o' Mice an' Men
          Gang aft agley                             
                        –Robert Burns
I'll never forget how furious my mother was with me that day. I was about seven years old, and spending the day at my grandparents' house while Mum ran last-minute errands. The next morning my parents, sisters and I were to leave on a camping trip, the first real vacation my family had ever had; Dad was an auto mechanic, and summer was his busiest time, with all the beach-goers flocking into our seaside town and needing help with their vehicles.
That afternoon I started to feel poorly. Grandma felt my forehead and promptly tucked me into bed. By the time Mum bustled in to pick me up the cause of my misery was obvious: my body covered with the red blisters of chickenpox.
The memory of my mother weeping with disappointment came back to me two decades later. My husband, children and I were living in California, and could finally afford a return trip to New Zealand, our home country, after seven years abroad. My letters to parents for the previous several months had been full of plans and itineraries. About three weeks before our scheduled flight, David, our almost five-year old, came down with chickenpox. We phoned with the news. A few days later I wrote:
11 May 1968
I did write to you earlier in the week, but it was obsolete before it was even posted, so I tore it up instead. Isn't this business just typical of kids? Anyway, here is the present state of play: we have bookings … [revised details]… But this flight depends on Simon [our two-year-old] coming out in spots this weekend, or Tuesday at the latest. The chances are higher that we shall postpone again until the following week …
Here is my calculation of the odds: Incubation period 11-21 days. Say David came out in spots on the 11th day, and Simon, from the same contact, on the 21st day (i.e., next Friday) he has two weeks to have it over with.
Say Simon missed David's contact, and gets it from David, he can come out in spots on the 11th, 12th, or 13th day, and has 11 days, or a reasonable chance, to be free of scabs. (The airline will take him if a doctor will certify that he is not contagious.)
Say Simon decides not to get it at all, he will have passed the 21st day by two days.
The only problem will be if he gets it from David after the 13th day. The 14th day is borderline; after that we would have to cancel. We are in a bit of a quandary as to what to do then … Meanwhile we are all twiddling our thumbs, and willing Simon to produce 'chickenpops', as he calls them. It seems such an awful thing to do to such an innocent little poppet, but so far he has remained obstinately clear-skinned and perky…
The ironic thing is that we had a mumps crisis last week. One of the children's closest friends came down with mumps about two weeks ago. We flapped around for a while, seriously considered gamma globulin, in spite of the cost (about $60 just for shots for myself and the children). We had braced ourselves to go through with it, when at the last minute the doctor just couldn't get hold of any, so decided to try a new mumps vaccine instead. This is a lifelong immunity, but doesn't take full effect for a month. By this time, he hoped that the vaccine would have built up enough antibodies to resist the disease. So far it is working. It is quite interesting being guinea-pigs, and considerably less expensive, at only $5 each. So instead we get the chickenpox!
…I have just come in from a walk – after four days in the house with kids, I needed it, but have come back feeling more depressed than ever about the whole business.
Monday – Have postponed until 31 May…
20 May 1968
Believe it or not, Simon actually produced some 'chickenpops' today, so we have started believing again that we are really coming. … I'm still not really convinced that we will arrive, but as we are going in this Wednesday to pick up the tickets, I had better stir myself out of this legarthy.
The irony of this story is that when we finally arrived at Nandi, Fiji on our way to New Zealand, the immigration officer noticed that David's smallpox vaccination was outdated. (You needed this at that time to get into New Zealand). In our panic over chickenpox, we has totally spaced on this detail. Fortunately the officer was kind "Just get it done as soon as you get there," he said as he stamped our papers.
Recently, while reading Michael Krasny's new book, Let There Be Laughter, I came across the Yiddish word naches, which Krasny defines as "the joy and pride a parent derives from a child's accomplishments." High on a mother's list of accomplishments for her daughter would be the production of beautiful grandchildren. It was an 'Aha!' moment. I'd been re-reading some of my 1967-68 letters to parents (my mother saved them all and gave them back to me) and thinking about the strained mother/daughter relationship the letters revealed.
The occasion was our first visit back to New Zealand. It had been seven years since we left our birth country, and twelve years since I had spent more than a week or two with my parents. In the meantime I had earned an advanced degree, begun a career as a writer, married, moved to England, had a couple of children, moved to California. I had kept in touch faithfully through fortnightly letters but had had none of that face-to-face interaction that helps define a relationship.
I was wildly excited about the trip:
18 Sept. 1967
I have a bit of news that I have been saving up, partly because I still scarcely believe it myself – we are hoping to come for a visit to NZ about the middle of next year, probably in May. It will only be for a month – you get a cheaper excursion rate for 28 days – but hope that will be long enough to see everybody again, & for the children to sort out who all the vague names of grandmas, uncles, etc. are – David [our 4-year-old] has them hopelessly confused at the moment.
1 Oct. 1967
[On news that sisters & cousins were having babies] It will be fun to meet all these new members of the family – they certainly seem to be mounting up.
31 Oct. 1967
[re Christmas presents] Like you, finance is a bit low this year – as you can imagine, we are needing to save very hard for this trip.
My next letter has a firmer tone. With the help of a marriage & family therapist friend (thank you, Linda G.), I've been researching the psychology of mother/daughter relationships and discovered the Jungian concept of individuation, the process of becoming aware of oneself as a being separate from one's parents. I also learned that tensions are normal in the parent and adult child relationship during this process of separating and setting boundaries.
17 Nov. 1967
I gather that preparations are already being made for our homecoming in May. I hope you realise that our time is going to be extremely limited. We hope to divide most of it between you & [my husband's mother], but also must go to Christchurch for a few days, and also have friends around the country that we hope to visit. So you would do well to reckon on about a week (don't forget flying time is included in the 28 days). This week will have to include relations too. The plan for an open day or weekend sounds a good one. I had better make it plain from the start that, apart from our immediate brothers & sisters, and possibly grandparents if they are too infirm to travel, we are not going to do any relation-visiting. For one thing, it wouldn't be fair to the kids, dragging them round from one set of strange faces to another. If you are going to get to know them at all, which from our point of view is the purpose of the visit, we will need a quiet domestic atmosphere with as few strange faces as possible. It took David four months to adjust to living in this country. Also, two days of being an exhibition piece is about as much as T. or I could stand – we are pretty unsociable types!
Here's where the Yiddish concept of naches comes in. Looking back, I realize now that it mattered deeply to my mother to be able to show us off. She had never seen our children, her first grandchildren, other than in photographs, and she had idealized them. But as a young mother, I was having none of it:
5 Dec. 1967
Glad you see my point about visiting relations, though reading your letter again I have a suspicion that you intend to have them turning up all the time anyway. If this is so, please think again. I know, Mum, you love to have your family about you, and find it hard to understand my attitude. But to me my family is my husband and children, and next, my parents and brothers and sisters. Now I shall be delighted to meet all my uncles and my cousins and my aunts, but since practically all of them are almost total strangers, it would be much easier on us to restrict their visits to a definite two days, and leave us free for the rest of the time to do what we came for, which is to visit you.
In my psychology reading I came across another concept, filial maturity, explained as:
1) By early adulthood, particularly in the 30s, taking on the responsibilities and status of an adult (employment, parenthood, involvement in the community), the child begins to identify with the parent.
2) Eventually, the parent and child relate to each other more like equals.
When I wrote these letters about our forthcoming trip to New Zealand I was 29. After fifty years of being a mother and a grandmother, I now understand why my mother and I were at odds. I'm sorry she had to deal with such a difficult and demanding daughter. I also know this was the way it had to be.
I still remember the tongue-lashing my teenage cousin and I received when we defended our widowed grandmother's decision to file for divorce from her second husband. If the two of them couldn't get along, we saw no reason why they should have to stay together. Mothers and aunts rounded on us. We didn't know what we were talking about, they scolded. Grandma was a disgrace to the family. The Mother's Union of our Anglican Church was going to throw her out, and her daughters were ashamed to show their faces in town.
Tauranga, New Zealand, was a tightly traditional little town in the 1940s and 50s, when I was growing up. Fathers worked, mothers stayed home with children. I didn't know any single parent families. If there were divorcees, they were invisible. So were lesbians and gays.
My social environment in England was almost as sheltered. My friends were other young marrieds with small children. Our close of new row houses was filled with intact families like ours.
When we moved to Cupertino, CA in 1967, we lived in a complex of townhouse apartments. Each apartment had a 20 ft. by 10 ft. fenced yard. Our yard was filled with a climbing tower, a sand box, sundry tricycles, pushcarts, and other paraphernalia to keep our two small boys entertained.  The neighbors helped open my eyes to other family structures: single parents, grandparents raising kids, abusive relationships.
The memory of my grandmother's divorce comes back to me as I read a letter to my parents. After thanking them for our two-year-old's birthday gift, I wrote:
17 Nov. 1967
Simon had a lovely little birthday party – a lunch for three little friends – after school the apartment is invaded with older kids, which would have caused problems. We seem to run a regular play centre here, what with the climbing tower and sandbox, and the new easel, with apparently unlimited supply of crayons & paper. However, the opportunities for recreation are so limited in these apartments, and so many of these kids from broken or otherwise mixed-up homes, that I guess its our contribution to the community.
There's a self-righteousness tone to this comment, an indication of my awakening to the variety of household shapes in this new environment. A hint of defiance too. I wonder, was I getting back at my mother and aunts for their dismissal of my grandmother's decision so many years ago?
Having spent all their little lives in a place where parks had prim Keep Off The Grass signs and irate men in bowler hats with sticks enforced The Rules, my children were enchanted to discover the parks and playgrounds of their new home.
In the 1967, when we arrived in California from England, California State Parks was going through a huge expansion. Appropriations from the General Fund and a 1964 recreation bond provided well over a hundred million dollars for land acquisition and development. The government budget analysis for 1967 comments:
In the immediate future, the most pressing need of the state park system will be to provide funds for access and minimum development to enable the public to use lands now owned or currently being acquired. The existing state park system has a potential for development of about four times that of existing facilities.
With an expanding population, local governments in the Santa Clara Valley were also opening new parks and playgrounds as rapidly as they could. It was a fine time to be kids. They had their choice of playgrounds within easy driving distance: the one with the great swings, or the one with the good bars to climb on?
Cooking out at a forest park was one of our favorite activities. We bought a cheap little hibachi, loaded up a picnic and were off to explore.
At weekends, if the weather was hot in the valley, we might go over the Santa Cruz Mountains to the beach, remembering to take warm jackets since the fog was likely to roll in. Again choices, choices: Pescadero State Beach,  or San Gregorio, or Half Moon Bay, Natural Bridges, Seacliff, Manresa…? Well before the California Coastal Act of 1976 declared that the permanent protection of the state's natural and scenic resources is a paramount concern to present and future residents of the state and nation and that it is necessary to protect the ecological balance of the coastal zone and prevent its deterioration and destruction, the beach parks in our part of the state were already a beloved treasure.
Looking back, I recognize how innocent we were about land use politics, environmental pollution issues, climate change. Now more than ever, those parks and beaches, and the creatures living in them, need our support.
Would she be able to watch my toddler for an afternoon while I went to a doctor's appointment, I asked Margaret, my next-door neighbor in the block of new row houses we'd both recently moved into in 1965. An odd look came over her face, and a blush reddened her cheeks. A pause. "Actually, I have a doctor's appointment that afternoon too." Another pause. I don't remember which of us said it first: "I think I'm pregnant again."
An easy solution: we went to our appointments together, to the same doctor, taking turns to supervise our infants (her daughter only three days younger than my son) in the waiting room.  Our second children were born within two weeks of each other. Another neighbor, Jo, took care of our two-year-old then, while my husband was at work. When Jo had another baby the following year, it was I who minded her two little girls.
Not having family in England to call on for help, I am forever grateful to this sisterhood of neighbors. Most of the women in our little close of twenty houses were stay-at-home mums with small children. We drank coffee together in the mornings and shared how our brains were turning to mush. Our children ran in and out of each other's houses. We took care of each other.
On the back pages of my English cookbook are two recipes, one for a Charlotte Russe from Margaret and a prawn cocktail  from Jo, both classic 1960s recipes. I remember the occasion vividly. My husband Tony had accepted a position in California. We were waiting for our US green cards to come through –a nerve-wracking saga that I'll write about sometime. Meanwhile, his prospective new boss was passing through on his way home to Denmark for Easter, and wanted to meet Tony. A dinner invitation was obviously required. But what to serve? In a panic, I turned to my sister-neighbors. They held my hand and helped me through planning a menu. Prawn cocktail to start, and Charlotte Russe for dessert. For the main course I probably served roast lamb, a traditional New Zealand staple.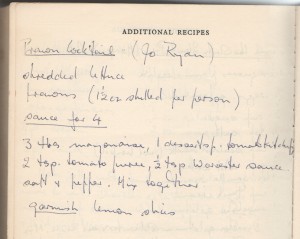 The dinner was a success, though I suspect that the Danish boss, having gotten used to casual Californian ways, was a bit overwhelmed by the formality of it. But he was very gracious, and we had a pleasant evening. I couldn't wait to share how it went with my neighbors the next morning.
My old black filing cabinet has yielded a treasure: the carbon copy of a 1960s letter to a newspaper editor. Reading it again, I'm struck by how much it reveals about my homesickness for the more casual lifestyle of New Zealand and my resentment of the strictures of English custom. I was reminded of these differences when my sister Alison, who lives on a beach north of Auckland, posted on Facebook a photo of her gathered family, and American friends of the family joked about the lack of shoes. Here's the 1964 letter:
The Women's Editor
The Guardian
Manchester
 Dear Madam,
As a fellow colonial I share [Guardian feature writer] Geoffrey Moorhouse's feelings about English clothing habits. The conformity begins at an early age. This summer my one-year-old toddler and I have been subjected to cold stares and even sarcastic comments from total strangers. The cause is his shoe-less feet. I am obviously considered a poor mother, for not providing leather for his feet, and looking round, I noticed that even during the hottest days, while my infant sat comfortable in only napkin and sunhat, most of his contemporaries were firmly laced into heavy shoes, and many were even inflicted with neatly buttoned shirt and tie.
I am not against shoes on principle. Now that the weather is turning cold, my son wears shoes and socks with his long trousers. But I do object to this pressure to dress young children according to society's idea of respectability, disregarding the dictates of the weather.  
I don't go barefoot in Mendocino. It's cold here, and there's burr clover and native blackberry underfoot. But sometimes I miss those carefree New Zealand summers of my youth.
Whenever I see old blackberry canes, dark red as the stain of their summer juice, I remember blackberrying in England when my son was small, and a dark red guilt sweeps over me. I described our expedition in a letter to parents:
8 Oct 1965
We went blackberrying on St. Ann's Hill, not far from here. Got a lovely lot—have been busy making jelly, pies, etc. David had a wonderful time—it was so sweet to see the solemn single-mindedness with which he set about collecting his berries—and he didn't eat a single one until Tony offered him a handful—to comfort him when he tumbled down a slope into a patch of brambles.
Modern American parents would probably be horrified at how lackadaisical we young mothers in England were about supervising our children's play. Once the daddies were gone to work, our little close of twenty-eight row houses was almost completely free of traffic. The kids, twenty of them under school age, ran in and out of each others' houses and romped together across the grassy front yards.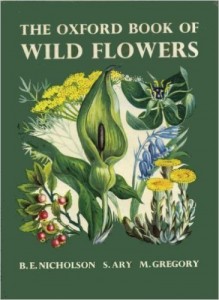 The Monday after our blackberrying expedition, I went out to gather up two-year-old David for lunch. I found him and his little friend  in a still-rough corner between the housing blocks. His mouth was stained red. "I picking blackberries, Mummy," he announced cheerfully. I took one look at the berry-laden plant, then rushed back to the house. My Oxford Book of Wild Flowers confirmed my guess: Deadly Nightshade.
While Tony, who had come home from work for lunch, went to tell the mother of the other child what had happened, I tried everything I knew of to make our baby throw up. Nothing worked. We called an ambulance. Since I was within a week or two of giving birth to our second child, a neighbor, seeing the ambulance, came over to wish us well. I am still grateful that when she learned the story, she called the police, and still guilty it hadn't occurred to me that other children might be involved. Some days later I wrote to parents:
13 Oct. 1965
The police organised all the rest of the kids in the close whose parents couldn't prove they were somewhere else that morning into another convoy of ambulances for a mass stomach pumping session. About a dozen altogether involved, of which four (including David) were confirmed cases, though they decided to keep the whole lot overnight for observation, just in case.
Meanwhile the newspapers had got hold of the story. We refused to see them at the hospital, but when we got home about 7:00—completely exhausted, & having had nothing to eat since breakfast—we were invaded by a posse of reporters. A highly garbled & exaggerated account appeared the next day. I suppose it's not every day one makes the front page of the Daily Mail, the Daily Mirror, & the BBC News, but I shouldn't care for the honour to happen again.
Anyway, the story ended well—all the kids were discharged the next morning, with none but the hospital staff any the worse for wear—in fact the sister-in-charge of the children's ward where the confirmed cases were confessed that she hadn't known that four such tiny boys could get so involved in riots and punch-ups all up and down the ward, and they were very pleased to see the back of them.
The visiting baby, almost two years old, sat alone and silent by the ribbed glass door of our row house in Egham, on the outskirts of London. He paid no attention to our chatty, energetic infant of the same age, nor even to his parents. Instead, he ran his tiny fingers obsessively over the ribs of the glass. Watching him as I fixed tea for our guests, I was uneasy.
A letter to my parents dated 20 April 1965 says nothing of this unease. Instead:
We had visitors on Sunday – Steve & Derek Shirley & their little Giles, who is the same age as David. We hadn't seen them for quite a while, & had a very pleasant day.
That was the last time we saw the Shirleys. Recently I have been reading Dame Stephanie (Steve) Shirley's memoir Let IT Go, to try to understand what happened to our year-long friendship. The answer is devastating.
In early 1964 I had interviewed Steve by phone for an article that ran in the Guardian about women programmers and her new business Freelance Programmers.  A few months later I gushed to parents:
30 April 1964
A couple of weeks ago we went to visit a very pleasant couple – the woman I interviewed (over the telephone) for my article on computer programmers. She has a baby the same age as David, and also works at home making up programmes – that is, the detailed instructions to be fed into a computer to do a required job. Anyway, we liked each other very much even over the phone, and she invited us to a meal to meet properly. They have a marvellous little stone cottage up in the Chilterns, right out in the country, with apple trees and daffodils, low oak beams, a huge log fire, and a grand piano squeezed into the front parlour. It sounds like a setting from a romantic novel, and that was the feeling even when we were there, that everything matched so well that it couldn't be quite real. And a remarkable affinity too, between us as people. A bond to start with of course  — it was the interest of her story that got me a place in the Guardian, and she credits me with the terrific boost to her business – she now has 20 other home-bound women working for her, and is forming herself into a limited company, and with giving her the confidence to get started. Then Derek is also a physicist [like Tony], reserved, very musical, and Steve and I found that our feelings and ideas agreed on all sorts of points.
At that time Giles and our David were eleven months old. Steve writes in her memoir:
The catastrophe had crept up on us. It must have been in early 1964—when he was about eight months old—that we first began to worry, on and off, that perhaps Giles was a bit slow in his development: not physically, but in his behaviour. He was slow to crawl, slow to walk, slow to talk; he seemed almost reluctant to engage with the world around him. These concerns took time to crystallise—as such concerns generally do—and the first time I went to a doctor about them I couldn't even admit to myself what was worrying me. …
My letters for the rest of 1964 are full of references to our new friends: visits back and forth, parties, conversations. In June I wrote: We liked them even more, if possible …  isn't it strange how people sometimes just click.
Meanwhile, Steve writes:
By the end of that year, however, there was no avoiding the observation that Giles was losing skills he had already learnt. … [He] had never become chatty. And now he fell silent. …
Months of desperate anxiety followed, in which there seemed to be little that we could do except fret. …
My lovely placid baby became a wild and unmanageable toddler who screamed all the time and appeared not to understand (or even to wish to understand) anything that was said to him…
By mid-1965 Giles had taken up weekly residence at The Park [the children's diagnostic psychiatric hospital in Oxford] while the doctors there tried to work out what was wrong. Nothing I can write can capture the enormity of the sorrow that that short sentence now brings flooding back to me. …
Finally, in mid-1966, the specialists overseeing Giles's case [at Great Ormond Street Hospital for Children] delivered the devastating but unarguable verdict: our son was profoundly autistic, and would never be able to lead a normal life.
I understand now that our friendship with the Shirleys could not survive. Being with us would have been painful for them. There was too much unspoken, too much contrast between their child and ours. For a short time, we loved them. Even now, a sadness returns.
Postscript
Derek and Steve spent the rest of Giles's short life seeking appropriate and supportive care for him. (He died at age 35.) Steve's business flourished. She has poured her considerable wealth into philanthropy, primarily to support "projects with strategic impact in the field of autism spectrum disorders."
Dame Stephanie Shirley: Let IT Go, Andrews UK Ltd., 2012